So you want to start memorizing poetry in Morning Time. You know you should start with something that delights you as the Mama. But there are millions of possibilities! Where to begin?
Start here with my list of 100 of the best poems to memorize in Morning Time!
I even have a checklist you can print out and keep in your homeschool planner. Imagine how much fun it will be to look back and see how many beautiful words and delightful ideas you and your children now know by heart!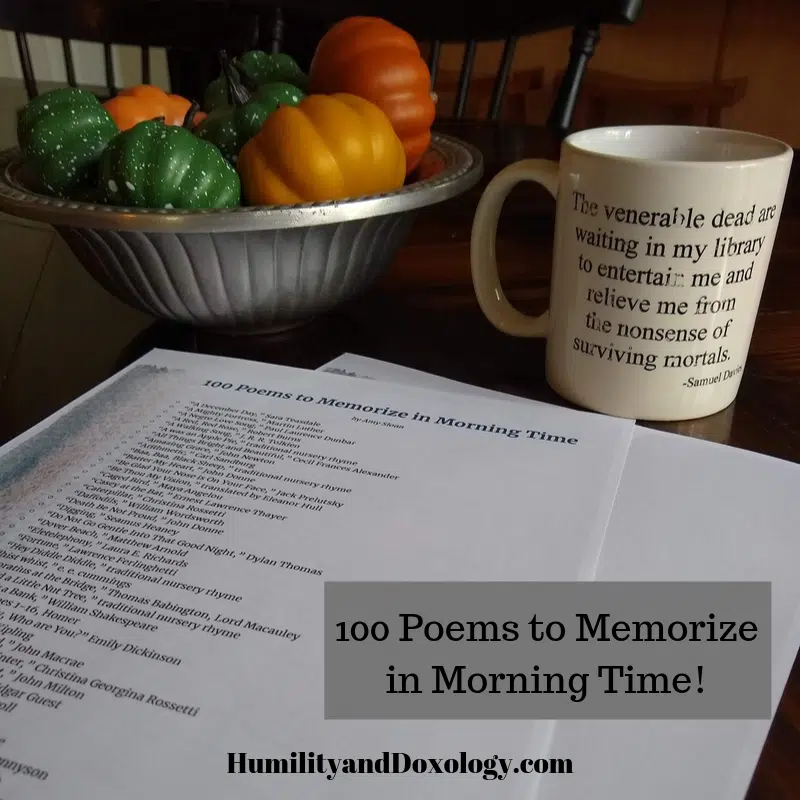 Be sure to check out the Year of Memory Work, where I have recorded video recitations of several of these selections.
"A December Day," Sara Teasdale
"A Mighty Fortress," Martin Luther
"A Negro Love Song," Paul Laurence Dunbar
"A Red, Red Rose," Robert Burns
"A Walking Song," J. R. R. Tolkien
"A was an Apple Pie," traditional nursery rhyme
"All Things Bright and Beautiful," Cecil Frances Alexander
"Amazing Grace," John Newton
"Arithmetic," Carl Sandburg
"Baa, Baa, Black Sheep," traditional nursery rhyme
"Batter My Heart," John Donne
"Be Glad Your Nose is On Your Face," Jack Prelutsky
"Be Thou My Vision," translated by Eleanor Hull
"Caged Bird," Maya Angelou
"Casey at the Bat," Ernest Lawrence Thayer
"Caterpillar," Christina Rossetti
"Daffodils," William Wordsworth
"Death Be Not Proud," John Donne
"Digging," Seamus Heaney
"Do Not Go Gentle Into That Good Night," Dylan Thomas
"Dover Beach," Matthew Arnold
"Eletelephony," Laura E. Richards
"Fortune," Lawrence Ferlinghetti
"Hey Diddle Diddle," traditional nursery rhyme
"hist whist," e. e. cummings
"Horatius at the Bridge," Thomas Babington, Lord Macauley
"I Had a Little Nut Tree," traditional nursery rhyme
"I Know a Bank," William Shakespeare
"Iliad," lines 1-16, Homer
"I'm Nobody, Who are You?" Emily Dickinson
"If," Rudyard Kipling
"In Flanders Field," John Macrae
"In the Bleak Midwinter," Christina Georgina Rossetti
"Intro to Paradise Lost," John Milton
"It Couldn't Be Done," Edgar Guest
"Jabberwocky," Lewis Carroll
"King Alfred's War Song"
"Kubla Khan," Samuel Coleridge
"Lady of Shallott," Alfred, Lord Tennyson
"Laughing Time," William Jay Smith
"Little Miss Muffet," traditional nursery rhyme
"Lochinvar," Sir Walter Scott
"Midnight Ride of Paul Revere," Henry Wadsworth Longfellow
"Most Glorious Lord of Life," Edmund Spenser
"Mother to Son," Langston Hughes
"My Shadow," Robert Louis Stevenson
"New Colossus," Emma Lazarus
"Nothing Gold Can Stay," Robert Frost
"O Captain, My Captain," Walt Whitman
"Ode on a Grecian Urn," John Keats
"Old Mother Hubbard," Sarah Catherine Martin
"On His Blindness," John Milton
"Ozymandias," Percy Bysshe Shelley
"Pied Beauty," Gerard Manley Hopkins
"Poem," William Carlos Williams
"Prologue to the Canterbury Tales," Geoffrey Chaucer
Psalm 23
Psalm 51
Psalm 100
Psalm 139
Psalm 150
"Quality of Mercy," William Shakespeare
"Ring-A-Ring," Kate Greenaway
"Sea Fever," John Masefield
"She Walks in Beauty," Lord Byron
"Skyscrapers," Rachel Field
"Sneezles," A. A. Milne
"Sonnet 116," William Shakespeare
"Sonnets from the Portuguese XXIX," Elizabeth Barrett Browning
"St. Patrick's Breastplate"
"Stopping by Woods on a Snowy Evening," Robert Frost
"The Altar," George Herbert
"The Baby," George Macdonald
"The Charge of the Light Brigade," Alfred, Lord Tennyson
"The Destruction of Sennacherib," Lord Byron
"The Eagle," Alfred, Lord Tennyson
"The Frog," Hilaire Belloc
"The Glove and the Lions," Leigh Hunt
"The Highwayman," Alfred Noyes
"The Jumblies," Edward Lear
"The Kite," Harry Behn
"The Lake Isle of Innisfree," W. B. Yeats
"The Lamb," William Blake
"The Lost Doll," Charles Kingsley
"The Love Song of J. Alfred Prufrock," T. S. Eliot
"The Meehoo and the Exactlywatt," Shel Silverstein
"The Nymph's Reply to the Shepherd," Sir Walter Raleigh
"The Old Pond," Matsuo Basho
"The Owl and the Pussycat," Edward Lear
"The Passionate Shepherd to His Love," Christopher Marlowe
"The Raven," Edgar Allen Poe
"The Road Not Taken," Robert Frost
"The Spider and the Fly," Mary Howitt
"The Tyger," William Blake
"The Wild Rose," Wendell Berry
"The Yak," Hilaire Belloc
"Trees," Joyce Kilmer
"We Wear the Mask," Paul Lawrence Dunbar
"What the Mirror Said," Lucille Clifton
"Wynken, Blynken, and Nod," Eugene Field
Don't forget to download your free printable copy of the best poems for Morning Time checklist!
Want even more memory work resources? Start here:
Find even more "100 Things" tips, tricks, books, hands-on projects, lessons, games, or ideas here!