Wondering what Christmas books to read aloud to your kids this year? I've prepared an ultimate list of the best Christmas picture books and read alouds for your family to enjoy! Along with familiar favorites, you're sure to find some hidden gems and unusual treasures in this list.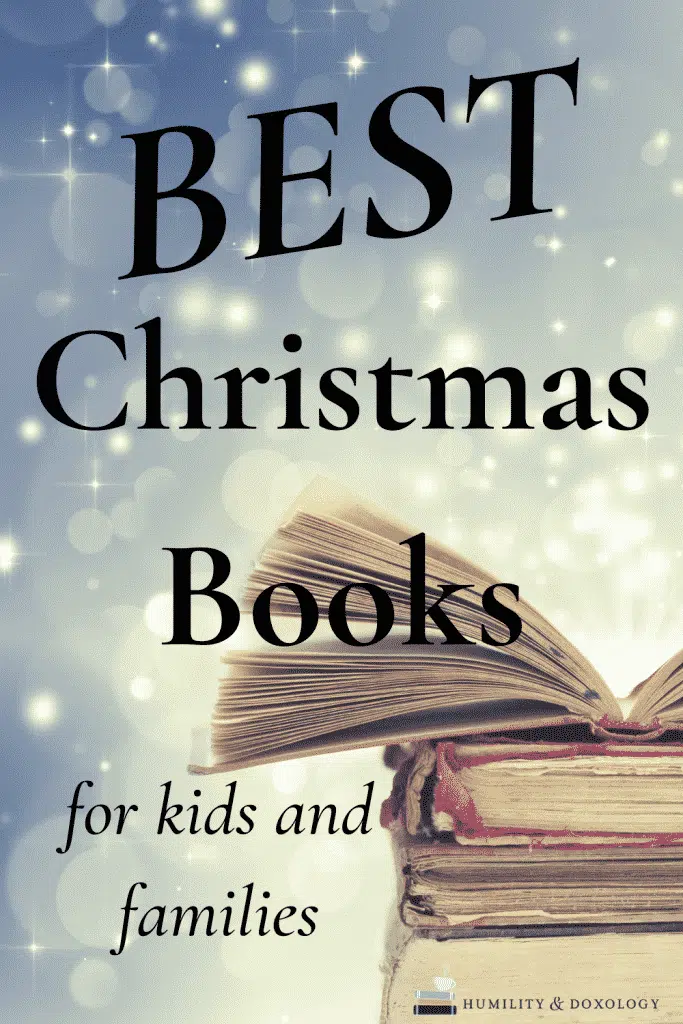 Grab your family and a cup of cocoa and curl up with some of these classic children's Christmas books and unique modern additions!
Our Family's Favorite Christmas Picture Books
Our Family's Favorite Christmas Read Alouds
More Fun Christmas Books Old and New
Find an easy, clickable list of all these books and more here!
12 Days of Christmas, Rachel Isadora
A Carol for Christmas, Ann Tompert
A Christmas for Bear, Bonny Becker
A Christmas Like Helen's, Natalie Kinsey-Warnock
A Christmas Tree for Pyn, Olivier Dunrea
A City Christmas Tree, Rebecca Bond
A Pussycat's Christmas, Margaret Wise Brown
An Early American Christmas, Tomie dePaola
An Island Christmas, Lynn Joseph
An Orange for Frankie, Patricia Polacco
Baboushka and the Three Kings, Ruth Robbins
Bear Noel, Olivier Dunrea
Bear Stays Up for Christmas, Karma Wilson
Carl's Christmas, Alexandra Day
Christmas at Long Pond, William T. George
Christmas for 10, Cathryn Falwell
Christmas in the Country, Cynthia Rylant
Christmas Tapestry, Patricia Polacco
Christmas Trolls, Jan Brett
Cobweb Christmas- the Tradition of Tinsel, Shirley Climo
Coming Home, Michael Morpurgo
Cranberry Christmas, Wende and Harry Devlin
Finding Christmas, Helen Ward
Four Friends at Christmas, Tomie dePaola
Gingerbread Christmas, Jan Brett
Grandfather's Christmas Tree, Thomas Locker
Great Joy, Kate DiCamillo
Hannah's Bookmobile Christmas, Sally Derby
Home for Christmas, Jan Brett
Lyle at Christmas, Bernard Waber
Mim's Christmas Jam, Andrea Davis Pinkney
Mr. Willowby's Christmas Tree, Robert Barry
Night Tree, Eve Bunting
Nonna Tell Me a Story, Lidia Bastianich
Nutcracker Night, Mireille Messier and Gabrielle Grimard
O Christmas Tree, Vashanti Rahaman
Old Dog Cora and the Christmas Tree, Consie Powell
On Christmas Day in the Morning, John Langstaff and Melissa Sweet
Pick a Pine Tree, Patricia Toht
Room for a Little One, Martin Waddell
Saint Nicholas, Ann Tompert
Shooting at the Stars: the Christmas Truce of 1914, John Hendrix
Silent Night, Maureen Brett Hooper
Sister Bear: A Norse Tale, Jane Yolen
Song of the Camels, Elizabeth Coatsworth
Song of the Stars, Sally Lloyd-Jones
Stick Man, Julia Donadlson
The All-I'll-Ever-Want Christmas Doll, Patricia C. McKissack
The Birds of Bethlehem, Tomie dePaola
The Christmas Boot, Lisa Wheeler
The Christmas Eve Ghost, Shirley Hughes
The Christmas Miracle of Jonathan Toomey, Susan Wojciechowski
The Christmas We Moved to the Barn, Alexandra Day
The Crippled Lamb, Max Lucado
The Little Drummer Boy, Ezra Jack Keats
The Little Fir Tree, Margaret Wise Brown
The Lump of Coal, Lemony Snicket
The Money We'll Save, Brock Cole
The Nutcracker, Susan Jeffers
The Perfect Christmas, Eileen Spinelli
The Peterkins' Christmas, Elizabeth Spurr
The Tree that Came to Stay, Anna Quindlen
The Trees of the Dancing Goats, Patricia Polacco
The Twelve Days of Christmas, Gennady Spirin
The Twelve Days of Christmas, Jane Ray
The Twelve Days of Christmas, John O'Brien
Together at Christmas, Eileen Spinelli
Under the Star: A Christmas Counting Story, Jane Yolen
Where is Christmas, Jesse Bear?, Nancy White Carlstrom