As I look back on my own experience as a homeschooled high school student, the Kings Meadow Humanities Curriculum from StandFast emerges in my mind as perhaps the most foundational course of all.
Through Dr. George Grant's lectures I learned so much more than facts about history (though copious amounts of facts were indeed covered). I gained the ability to see all of history as an outworking of the providence of God in the affairs of men. I began to understand that ideas have consequences, and that culture is "religion externalized."
My studies with Dr. Grant's Kings Meadow Humanities Curriculum taught me to approach the study of history and culture from a place of humility, curiosity, and wonder.
So is it any wonder that I eagerly anticipated the day when I could introduce my own teens to the joys of a Dr. Grant lecture, the delight of integrated bookstacks, the labor of a 40-hour project, and the glorious terror of the most challenging exams I've ever known?
This post contains affiliate links. I received a product for free, and was compensated for my time. All opinions are honest and my own; I was not required to write a positive review. Please see disclaimer.
My 3rd student began incorporating the Kings Meadow Humanities Curriculum from StandFast in their homeschool this year.
And, for the first time, we're enjoying the video lectures streaming from the StandFast website, complete with updated teacher and student materials! (This is far superior to the old cassettes –later mp3 files on CD –and bare-bones teacher resources my parents and I used, let me tell you!)
If you are looking for a fabulous homeschool high school history curriculum, read on to see how the Kings Meadow Humanities Curriculum may be just what you are looking for!
The Kings Meadow Humanities Curriculum from StandFast (previously called the Gileskirk curriculum) is a four-year, rigorous high school level course that equips home school students to study history in an integrated way alongside culture, art, literature, science, music, architecture, and more.
The full Kings Meadow Humanities cycle is comprised of the following courses:
Who teaches the video lectures for the Kings Meadow Humanities high school history curriculum?
The lecturer for the Kings Meadow Humanities Curriculum from StandFast is Dr. George Grant. Dr. Grant is the pastor of Parish Presbyterian Church in Franklin, TN. He is the author of more than 60 books on topics ranging from theology to history and economics, plus innumerable other articles. He is an educator, school-planter, and speaker. He's also a podcaster at The StandFast Cast. You can find him online at GeorgeGrant.net.
This curriculum is incredibly affordable!
You can purchase one full year of this homeschool high school humanities curriculum (which includes life-time access, so it can be used for multiple children in your family) for only $60.
And if you purchase the bundle with all four courses? The total price is only $225!
Plus, Humility and Doxology readers get 10% off with coupon code HD2022.
That makes 1 year of a robust high school history curriculum just a few cents more than $50. This is material of high quality, but low cost!
Providing an exceptional homeschool high school experience now isn't only available to those who can afford expensive classes.
In a time when the costs of daily living continue to rise and put pressure on many homeschool families, I am so thankful for the StandFast team's dedication to keeping this quality resource affordable.
The only additional costs would be any book purchases required. Of course, filling our home libraries is one of the great joys of the homeschool family, but it can also be a strain on our budgets. I've found great success in buying used books, utilizing my local library, and borrowing books from friends.
What is included in the Kings Meadow Humanities high school history curriculum?
Video Lectures
The video lectures for each year of the history curriculum are recordings from Dr. George Grant's lectures at Franklin Classical School in Franklin, TN. You stream these lectures on any device from the GeorgeGrant.net StandFast Dashboard.
All lectures, as far as I can see, were recorded before 2012. There are a few lectures with visiting lecturers, but the primary instructor is Dr. Grant.
These lectures are the core component of the program and are, in my opinion, completely worth the price all on their own.
The pdf downloads include outlines for each lecture (in varying degrees of detail) as well as slide materials.
Dr. Grant makes the following note about the seemingly irrelevant details that arise as a result of watching previously-recorded classroom lectures:
"One of the unique features of this King's Meadow material is that it is a little slice, or a glimpse if you will, of an actual classroom in an actual place with an actual context. That means that you'll hear all sorts of tidbits from our life together here in Franklin. And you might be tempted to think that these tidbits are, aside from curiosity, more than a little irrelevant to you in your own place and time and context. But, we have deliberately left these in the material precisely because we don't teach material or a subject or lessons or a scope and sequence; we teach students; our discipling is inescapably relational, personal, and covenantal. To strip out these odd comments, allusions, nods, references, and circumstances would thus defeat a significant part of our purpose for making the recordings available in the first place. This material is far, far less a curriculum than it is a dramatic portrayal of how we're walking out our lives together.
I often tell my students that they are the beneficiaries of an extraordinary web of relationships; that they are only just now beginning to understand that classical education is more about a culture than it is about a curriculum; that it's more about a way of life than it is a way of doing; that it's more a vision of what God's called us to than it is a mechanical set of prescriptives that are to be implemented in our lives; that it is about accountability, about community, about the rich covenant into which we have been grafted by God's good providence; that it is as much about who we are as what we know.
So, when you hear some of these seemingly random and unconnected threads from the tapestry of our lives here in Franklin, please don't tune them out—instead, see them as a model or illustration or provocation for the unique circumstances that will spring up in your own context."
And on a personal note, I will say that I always enjoyed the glimpses into the cultural moments expressed in the lectures, and my kids do as well. And the early 2000s are basically history for our own teens, so it's like a little bonus cultural history lesson within itself right there. Ha! (Anyone else get a little freaked out sometimes thinking how the early 2000s are "history" to our homeschool students?!)
Instructor Guide, Student Guide, and Supplemental Materials
On the same Standfast Dashboard where you stream the video lectures, you are also able to download zip files containing the Instructor Guide, Student Guide, and slide materials (images, maps, and graphs shown during the lectures).
Depending on which specific course you've chosen, the material included varies a bit in detail, scope, and organization.
The guides include what is essentially a cliff notes version of the lectures, which is extremely helpful during discussion times if the parent has not had time to listen to the lecture alongside the student!
Opportunities to Show What You Know
The weekly quizzes are somewhat humorously titled "Opportunities," as in "opportunities to show what you know."
The midterms and final exams are intense, but in the most inspiring way possible. I have personally never had to take a test even remotely as difficult as the humanities exams from my homeschool high school years! A 30-page final exam is completely typical, with several pages of short answer identification, a few matching/True-False questions, map labelling, and poetry to remember and write out. Oh, and don't forget that about half of that exam is essay questions of varying length!
The quizzes and exams are arranged in a way that reflects the ideas of the Trivium from classical education. They include questions related to factual details (Grammar), connections and causation (Logic), and opportunities to examine how these ideas apply to the student's own life and culture (Rhetoric).
When I was a homeschool high schooler, I took these exams closed-book with pencil-and-paper, and spent quite a few hours toiling over them. The feeling of success and victory when complete was priceless.
Because our own family uses this curriculum slightly differently than my own family of origin did (for instance, my teens have additional outside writing and literature classes with rigorous requirements of their own), we have chosen most recently to allow the quizzes/tests to be open-notes (encouraging better note-taking skills!) and oral (including more discussion with the other sibling taking the class!).
Some of my favorite moments as a homeschool mom come from these vigorous (and sometimes hysterical) living room humanities discussions with my teens!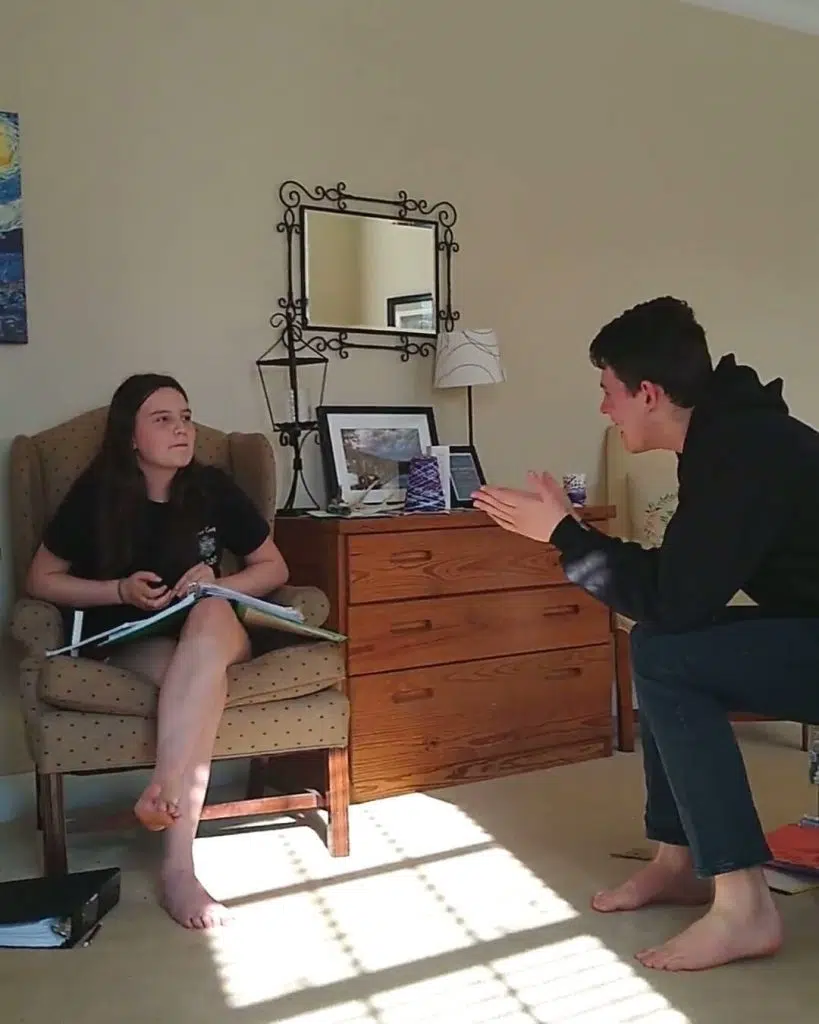 Reading
There are many reading assignments provided to correspond with and further examine the topics covered in Dr. Grant's lectures.
There are primary texts, supplemental titles (with alternatives), and literature suggestions.
Students are encouraged to keep reading journals based on their reading. I typically have my teens read an entry or 2 aloud from their journal each week during our discussion time.
As in all things, you have the freedom to make the choices that work best for your own homeschool students. If a student's reading ability is not quite ready for some of the more difficult texts, you can choose an alternative from the lists provided or choose another text you prefer.
Projects
Each year at Franklin Classical School, Dr. Grant assigns his students a variety of projects, culminating in a final "40-hour Project." Descriptions and instructions for these projects are included in the pdf course material.
Projects include writing poetry, drawing maps, designing heraldic crests, writing newspaper articles, and more.
Of course, you as the parent get to decide which projects to assign in your own homeschool! I don't always assign the additional writing assignments, because we have several other writing projects going on in our homeschool at any given time.
I do, however, encourage my teens to work creatively on their final projects! Final projects in our own homeschool have included a more traditional research paper, a Minecraft project detailing the history/design of castles, research into the history of ancient baking techniques and various grains, and (most recently) a multi-piece recreation of a medieval outfit designed and sewn by hand. (My kids are way cooler than I was; I always just wrote ordinary research papers for my final projects.)
What is required from the homeschool parent?
Alongside the quizzes, exams, and answer keys, the pdf downloads from the Kings Meadow Humanities Curriculum from StandFast also include a syllabus, related literature planning resources, and recommendations for planning and grading various elements of the program.
This is not a simple curriculum-in-a-box. There are no grids and checklists laying the year out for you week by week. Some of the years are more organized and easier to interpret than others. There are multiple pdf files for each course that you, the homeschool teacher, will need to carefully save, print out (or save to your device), and evaluate for yourself. You will then need to figure out how to incorporate the various resources into the daily reality of your own homeschool plan.
However, I think the curriculum is completely doable (and certainly worthwhile) to implement with a little bit of preparation. The syllabus lays out and correlates the various reading assignments, opportunities, projects, etc. with specific video lectures, which makes it relatively simple to add to your homeschool schedule.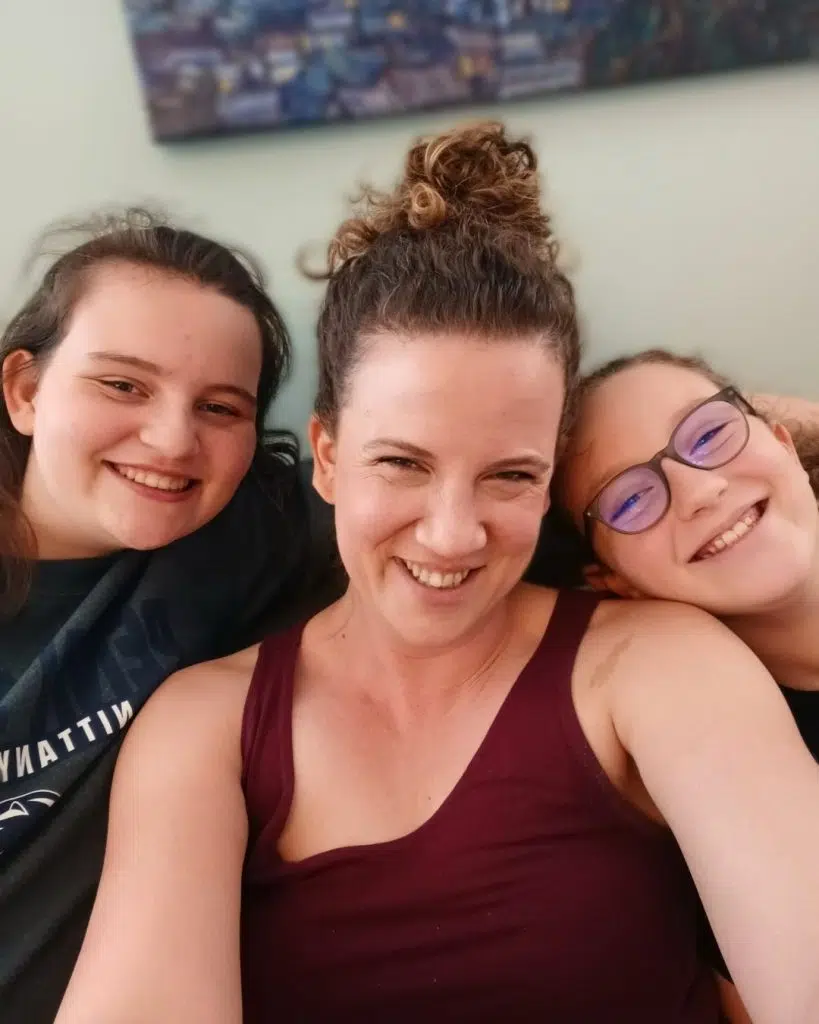 This high school curriculum works best when the homeschool teacher is engaged as well. My parents often listened to the lectures right alongside me, and my mom would take notes like I did.
I do not currently have the time to relisten to the lectures as my teens do, but we meet regularly to discuss what they have learned.
You can, of course, just assign video lectures and pass out the quizzes and tests as independent work, and students will absolutely still learn valuable information from that.
And honestly? There have been seasons in my own homeschool where, for a time, this is what has happened.
But the discussion and parental engagement and discipleship really is a key ingredient in using this curriculum to its full potential.
The educational philosophy of the Kings Meadow Humanities Curriculum from StandFast
The Instructor Guide for the Kings Meadow Christendom course helpfully explains the primary goal of the curriculum: "The essence of the class is a humanities core fleshing out the uniquely Christian discipline of moral philosophy utilizing a chronology retelling of how cultures flower and flourish. The point is to see how the people of the past viewed themselves—finding the worldview of the culture. We want to measure the fruit of that worldview as well."
The Kings Meadow Humanities Curriculum from StandFast is much more than a typical homeschool high school history course. When I interviewed Dr. Grant on the "Homeschool Conversations with Humility and Doxology" podcast, we extensively discussed how a humanities (or "Moral Philosophy") approach differs from the modern isolated-subject approach to learning.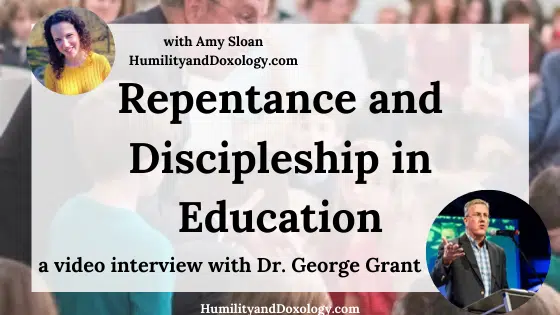 Dr. Grant explained, "In the 19th century, it was called Moral Philosophy…The purpose of Moral Philosophy was to study culture, which has a spine of the timeline of history, but along that spine you have to consider art and music and literature, the various ideas, technologies."
If we only focus on the "big" moments and individuals of history, he noted, we miss the integration that happens when you talk about cultural movements.
With this rich understanding of the history of culture, we're able to have a well-ordered perspective about our place in the world now.
"If history is dates and dead people and we miss all of the stories…then we've really made a mess of things. History really is just remembering the great stories of the past and then integrating that with the whole movement of God's providence in cultures. That then becomes Moral Philosophy, and it shapes our way of seeing the world today.
If we don't know where we've been, and how we've gotten to where we are, there's no possible way that we can see forward to where we need to go from here or what trajectory we should take," Dr. Grant asserted.
This is a high school curriculum designed to cultivate discerning, engaged, well-rounded students. And isn't that one of our primary goals as home educators as well?
I hope it is exceptionally clear by this point that I treasure all I learned from Dr. Grant's humanities lectures, and am absolutely delighted to be using it with my own teens today.
But there are, of course, challenges with this as with any curriculum.
One, as mentioned previously, is that not every year of the curriculum is organized as well as the others when it comes to the teacher materials and pdfs. Some of the written material does not always correspond to the same year and details as the video lectures. Recently in my living room, for example, this resulted in a scheduled quiz including material that was actually taught in a future lesson.
In my opinion, the value of the materials provided far outweighs some of these logistical challenges. But you as the homeschool parent do need to be aware of this, to plan, and to remain flexible in order for things to run smoothly.
In addition, I think many homeschool parents might feel pressure to use every bit of every pdf and copy every assignment previously given in the FCC classroom.
It's important to remember that this is your homeschool and these are your children. You have the freedom and flexibility to use these lectures and other resources as wonderful ingredients in the full feast of your homeschool high school experience. And, in fact, the curriculum guides themselves express this desire.
Finally, the lectures come from the perspective of one historian, as is the case with any set of lectures. Dr. Grant himself would be the first one to remind students to approach the study of history with humility, and to not assume that one person's particular perspective is the be-all-end-all answer.
This is why discussion between parent and student is so vital.
Ask difficult questions; don't just uncritically accept the answers given. Read widely, and perhaps even read conflicting perspectives. It doesn't mean you will necessarily agree with those conflicting ideas, but it helps you ask better questions and reflect on these complex topics.
The realities of using any curriculum as a tool (not a master) and thoughtfully investigating ideas with discernment is not unique to using the Kings Meadow Humanities Curriculum from StandFast, of course. These are the challenges (or, perhaps I should rather say the gifts) of any rigorous, Christian classical homeschool high school education.
Are you interested in using the Kings Meadow Humanities Curriculum from StandFast in your homeschool co-op?
The StandFast team will be offering access to a "students only" version of the curriculum, which will leave out the teacher's materials and test answers. This will come with an extra discount as well!
Any co-op leader who has ten or more students and would like information on that should reach out to the customer service team at team@georgegrant.net.
Remember to use coupon code HD2022 for 10% off.
"Our greatest inheritance, the very foundation of our civilization, is a marvel to behold and consider. If I tried to describe its rich legacy with utmost brevity, I should take the Latin word humanitas. It represents, in the widest sense, the accumulated harvest of the ages; it is the fine flower of a long discipline of Christian thought. It is the Western mind of which we ought to turn our attentions to careful study." ~ John Buchan