Our family prefers to go textbook-free whenever possible, following rabbit trails related to topics we're studying through beautiful memory work, good books, documentaries, music, and more. Learning is always more delightful when it's designed to ignite curiosity, foster wonder, and encourage further exploration!
This post contains affiliate links. I received a product for free, and was compensated for my time. All opinions are honest and my own; I was not required to write a positive review. Please see disclaimer.
That's why I was so excited for the opportunity to check out the new U.S. Geography curriculum from Beautiful Feet Books!
Designed for intermediate grades (approximately 4th-6th grade), this literature-based U.S. Geography curriculum is easy to use and customizable for each family's unique needs.
And because your kids will be learning Geography through delightful things like literature, mapping, narration/discussion, and hands-on projects, it will hardly seem like "school" at all!
Homeschooling Teacher Guide
Beautiful Feet is known for their easy-to-use, beautiful teacher guides, and the U.S. Geography Teacher Guide is no exception!
I love the gorgeous full-color photos and illustrations. The paper is so smooth and thick, a high-quality book that looks and feels beautiful. And, since the entire teacher guide is bound in book form, you'll never run the risk of losing a random page or dealing with finicky 3-ring binders!
This U.S. Geography Teacher Guide begins with a helpful introduction laying out not only the educational goals of the curriculum but also specific tips for how to use the guide. It also includes links to a free picture packet (corresponding to activities in each lesson) and a gorgeous Bible verse download. You will also find lists for further study on a variety of topics.
There are 37 lessons which could be spread out weekly for one homeschool year, or could be taken more slowly if you wanted to dive down some of the suggested rabbit trails.
I love that the Beautiful Feet U.S. Geography curriculum begins with a section introducing the basic principles of Geography as a whole. We'll learn the basics of mapping, landforms, biomes, and even a bit of earth science.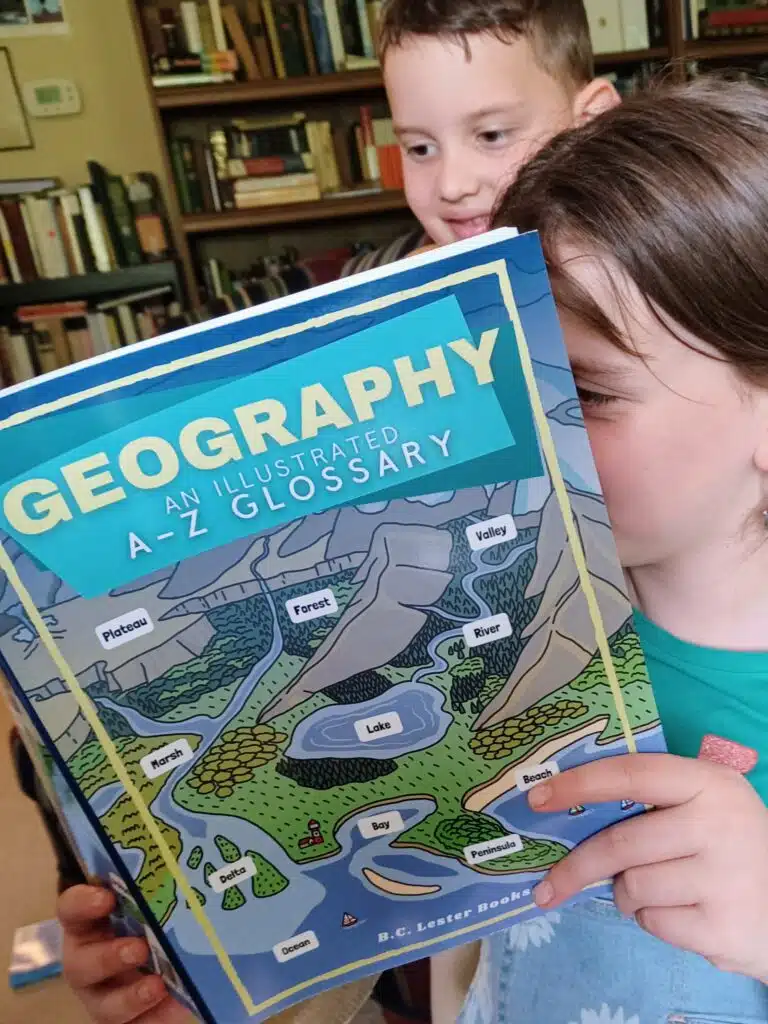 Following the introduction to Geography, the remainder of the guide is divided into 5 additional sections focusing on specific regions of the United States: the Northeast, the Southeast, the Midwest, the West, and the Southwest. You could even study these out of order if your other homeschool subjects were related to a specific region or if your family plans to travel to a specific area.
I love this encouragement included in the "How to Use This Guide" section:
"This geography program is written for fourth through sixth graders, and it is designed to be introductory and adaptable. Important concepts, ideas, and terms are introduced and reinforced throughout the study as students read exciting and inspiring stories, work on their maps, and create a glossary of geographic terms as well as study ecosystems and biomes. This course is discussion- and narration-based with mapping, hands-on projects, and outings expanding upon ideas introduced in the stories. Remember, this is your guide, not your taskmaster. The suggested activities are optional, so feel free to customize the course to best suit your family's learning style." (emphasis mine)
The Best Part of Homeschooling: Books
Of course, homeschooling mamas know that the best part of homeschooling is really all the beautiful books, right?
The core of the Beautiful Feet curriculum, whether this U.S. Geography curriculum or any of their other literature-based for grades K-12, is their fabulous book lists.
When I opened my box, I pulled out one beautiful picture book after another. It was hard to not get so giddy that I sat down to read through them all right then and there!
Titles included in the U.S. Geography curriculum are:
National Geographic Kids United States Atlas
Geography: An Illustrated A–Z Glossary by B.C. Lester Books
Mapping Penny's World by Loreen Leedy
The New Americans: Colonial Times, 1620-1689 by Betsy and Giulio Maestro
The Trailblazing Life of Daniel Boone and How Early Americans Took to the Road by Charyl Harness
Buffalo Bird Girl, A Hidatsa Story by S. D. Nelson
John Muir: America's First Environmentalist by Kathryn Lasky
Redwoods by Jason Chin
Ten Mile Day and the Building of the Transcontinental Railroad by Mary Ann Fraser
The Last River: John Wesley Powell & the Colorado River Exploring Expedition by Stuart Waldman
Bad News for Outlaws: The Remarkable Life of Bass Reeves, Deputy U.S. Marshal by Vaunda Micheaux Nelson
Nature study, regional history and geography, earth science, geographical terms… all these and more are woven together as we read these books with our children!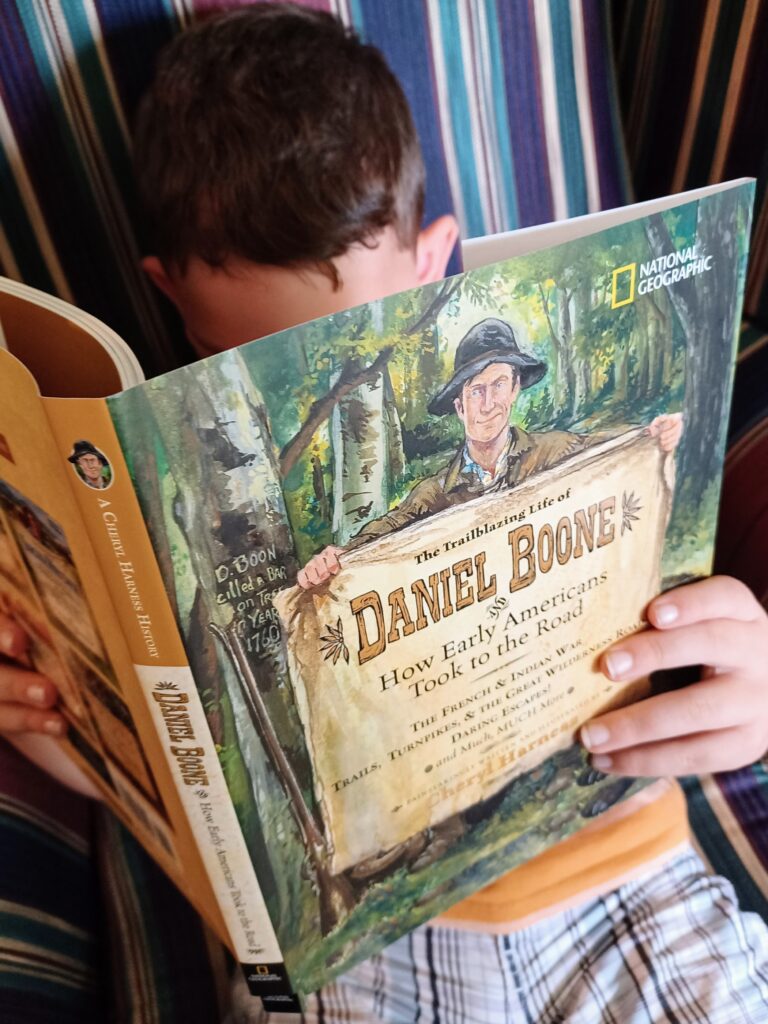 While you can certainly assign many of the reading and activities for independent learners, I think this curriculum would work beautifully in a multi-age homeschool during your Morning Time routine!
If you buy the full kit, there is also a high-quality, blank, foldable map (36″ x 24″) included which will be used through the course of the curriculum. If you intend to use this curriculum with multiple children at a time, it would probably be worth buying each student their own map.
Want to learn more about Beautiful Feet's Charlotte Mason inspired curriculum?
Check out my review of Around the World with Picture Books here, then click here to check out the full line of literature-based curriculum.
Beautiful Feet always offers free shipping for all orders $150+. But if it's your first time ordering, you can use promo code IgniteWonder for free shipping on an order of any size.