Singapore Math has gained traction and popularity in homeschool circles over the past 25 years, but I had not previously had the opportunity to really look more deeply into their products. I was delighted to have the chance to review the Dimensions Math Level 5 curriculum! If you've been curious to learn more about Singapore Math and are wondering if it's a good fit for your homeschool, this is the post for you!
This post contains affiliate links. I received a product for free, and was compensated for my time. All opinions are honest and my own; I was not required to write a positive review. Please see disclaimer.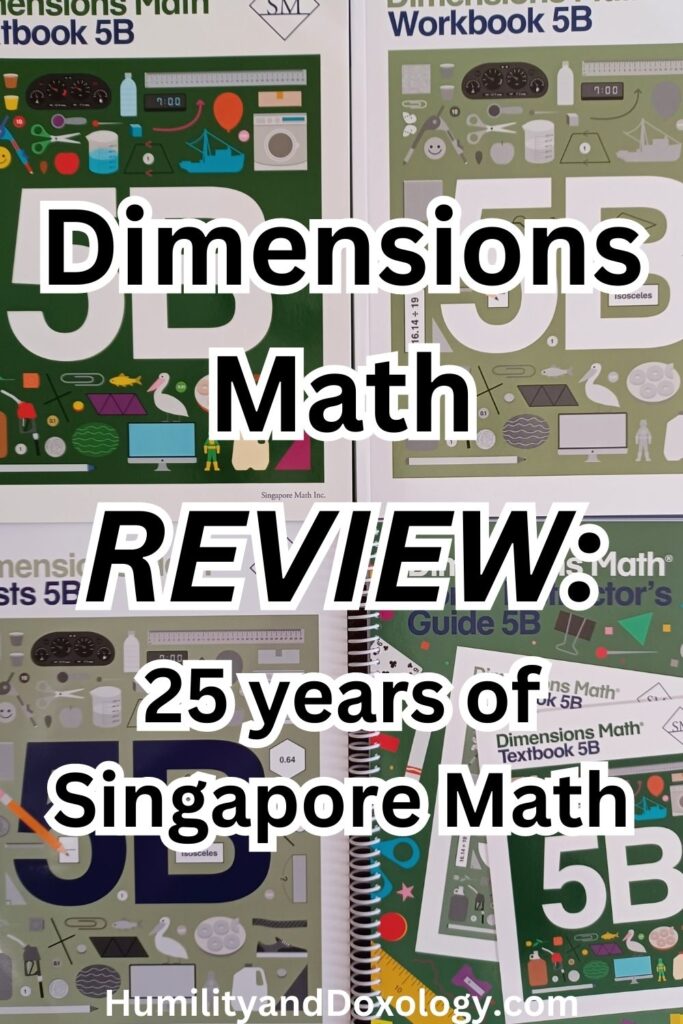 In the late 90s, the Thomas family wanted something better for their daughter's math instruction. They had just moved to Oregon from Singapore and were disappointed as they contrasted the math their daughter, Echo, had been learning in Singapore with the math instruction she was receiving in Oregon.
From those early years when they introduced the original Primary Mathematics textbooks and workbooks to a few families in the northwest, Singapore Math has flourished and gained popularity among many homeschool families.
Now celebrating 25 years of math instruction, Singapore Math is still a family-owned and operated company. They continue to expand their math curriculum resources to bring mathematical understanding and quality instruction to more homeschool families.
Singapore Math curriculum distinctives
There are several aspects that set Singapore Math apart. The logical progression of concepts and a combination of higher-level thinking with computational skill practice are just a few things parents appreciate about their math curriculum.
Concrete-Pictorial-Abstract (CPA) Approach
The Concrete-Pictorial-Abstract (CPA) approach is a foundational aspect of the Singapore math program. In order to develop deep understanding of mathematical principles, the curriculum moves from the concrete (think manipulatives or real-life objects) to a pictorial representation of the concept. Finally, abstract symbols are used to express the problem.
Problem Solving
Rather than merely regurgitating facts, students are encouraged to apply the mathematical concepts learned in real-life situations. By encouraging our children to develop critical thinking and logical reason, we will be setting them up for long-term math understanding.
Number Sense and Mental Math
Mental math is about more than just being able to quickly know the answer to a math question. When we develop number sense and mental math skills we are actually helping our children to make connections and deepen their understanding of numerical relationships. The ability to process math efficiently and accurately is something that is sometimes left out of other math curriculums.
Mastery-Based Learning
While Singapore Math includes plenty of review of previously-taught material, it really emphasizes learning a particular concept thoroughly before moving on to a new concept. That's why there is always plenty of practice, reinforcement, and review in the textbook, workbook, and supplemental activities.
Active Learning and Parent/Student Engagement
Singapore Math is not designed for the student to do independently. This is not a curriculum you purchase and just hand to your child and hope they figure it out on their own. It is designed to be taught by the parent, with clear discussion prompts and instruction techniques laid out for you in the Home Instructor's Guide. It can be easy for children to end up with gaps in their math understanding when they do it on their own. With the active learning and engagement between you and your student, you will not only ensure they thoroughly grasp the math concepts but you may just understand math more thoroughly yourself!
What is unique about Dimensions Math?
Dimensions Math is a comprehensive math curriculum for grades PK to 8. It was designed in-house at Singapore Math by American authors. They took all the rigor and effectiveness you've come to expect from Singapore Math methodology, but updated it to make it even easier to use for the modern homeschool parent. There are even new Dimensions Math At Home videos if you want or need help teaching the math lessons to your children!
Each level is sold in 2 parts by semester. For example, the Level 5 curriculum I've been reviewing comes with a complete set of books for 5A and 5B.
Level 5A begins with instruction on whole numbers, then progresses through writing and evaluating expressions, multiplication and division, addition and subtraction of fractions, multiplication and division of fractions, measurement, and volume of solid figures.
Level 5B continues with instruction on decimals, geometry, data analysis and graphs, ration, rate, and percentage.
Here is an example of the same lesson in the Home Instructor's Guide, the Student Textbook, and the Student Workbook: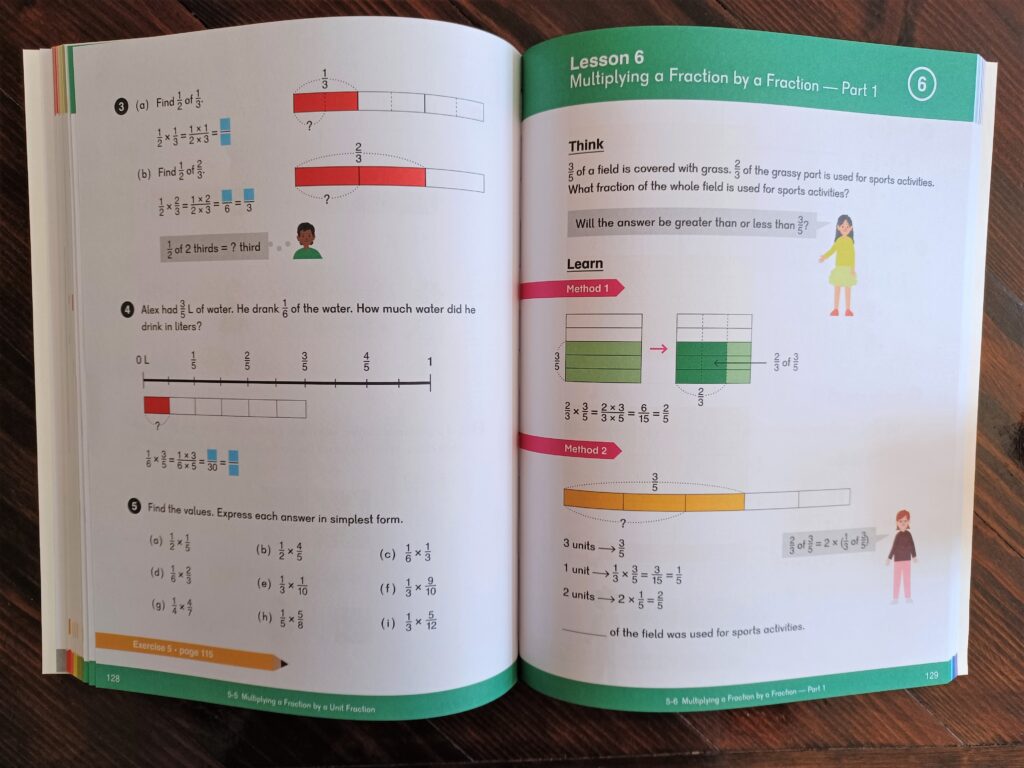 Instructor Guide
The spiral bound Home Instructor's Guide lays out a suggested course of study by week. Each chapter begins with notes for the teacher to read on their own, which set up the way you'll teach the lessons.
Each Lesson is set up in a Think, Learn, Do order, corresponding to the same headings in the Student Textbook. You'll sit beside your child and lead them through each section before they work independently on the additional review problems in the workbook.
Student Textbook
The full-color student textbook is designed to be consumable, just like the workbook. As your child progresses through the lesson, there are blue boxes and blank spaces for them to write in the textbook and engage with the math concepts.
Student Workbook
Each lesson has additional review available in the student workbooks. Many exercises are divided into Basics, Practice, Check, and Challenge sections. You can probably skip the "basics" if your child breezed through the lesson topic.
Instructor's Printouts (optional)
The Home Instructor's Guide references a variety of printouts to be used throughout the course of study. You'll use these to demonstrate concepts and provide hands-on practice with the math concepts being learned. They're available for free as a pdf download from the Singapore Math website, but I'm always a fan of making it easy! I like that you can purchase the complete set of activity sheets already printed out and ready to go.
Dimensions Math test books (optional)
If you want additional practice or if you need more formal assessment in your homeschool, the test books correspond with the lessons in each semester of Dimensions Math. The tests can be removed from the book and handed out to your child. The answer key is in the back of the test book.
Dimensions Math at Home videos (optional)
Singapore math teacher and trainer Beth Curran teaches these streaming video lessons corresponding to all the lessons in the workbook and textbooks.
Dimensions Math might be a good choice for your homeschool if:
You have the time and interest in being heavily involved in daily homeschool math instruction
You're interested in the rigorous Singapore math approach, but want a step-by-step instructor's guide
You've enjoyed Math with Confidence with your younger children and wish it was already available for your older students
If you've been using a different math curriculum and you're not sure what level of Singapore Math is best for your child, click here to take one of their placement tests. Click here to check out their math program's scope and sequence.
You can also download sample pages from the various Singapore Math curriculum here.
Don't choose Dimensions Math:
If you don't have the time to invest in daily one-on-one math instruction
If your child is easily overwhelmed and needs a simpler, streamlined curriculum
You're already happy with the math curriculum you're using (if it ain't broke, don't fix it)
Join the Singapore Math community on Facebook
Join the Singapore Math Facebook group to learn from other families who are using Singapore math curriculum in their homeschool.
You may also enjoy: How to Pick the Best Homeschool Math Curriculum