Y'all, our family loves studying history through living books, field trips, and beautiful memory work. And, in theory, I love the idea of hands-on projects to reinforce what we're learning about in our homeschool history studies.
In theory…
But somehow it's way too easy to put off those craft projects because… Who has time to gather all the materials we will need? Who has time to scour Pinterest to find the best ideas? And, please, tell me it's not going to require hundreds of hours to prep and implement!
Yeah, the thought of craft projects makes me squirm a bit, and it's been all too common for this mom to say "not today" when we see a hands-on project suggested in one of the books we're reading.
But what if there were a box that contained all the materials you would need for each and every homeschool history project for a year? What if there was a colorful book guide included with step-by-step instructions your kids can follow on their own?
Y'all, this is not a dream. I repeat, this is not a dream.
This post contains affiliate links. I received a product for free, and was compensated for my time. All opinions are honest and my own; I was not required to write a positive review. Please see disclaimer.
Is it any wonder why I was absolutely thrilled to have the opportunity to try out the Hands-On History: World History II project kit from Sonlight?!
Designed for 7-10 year olds, both my 3rd and 6th graders were absolutely thrilled with the projects inside. Ideally you'd have a separate hands-on history kit for each child if you wanted them to do each project on their own. Since we just have one kit, I decided to let each kid take turns picking out a project that they could then work on independently.
My 11 year old was able to completely follow the instructions and complete the Viking Jewel Box on her own.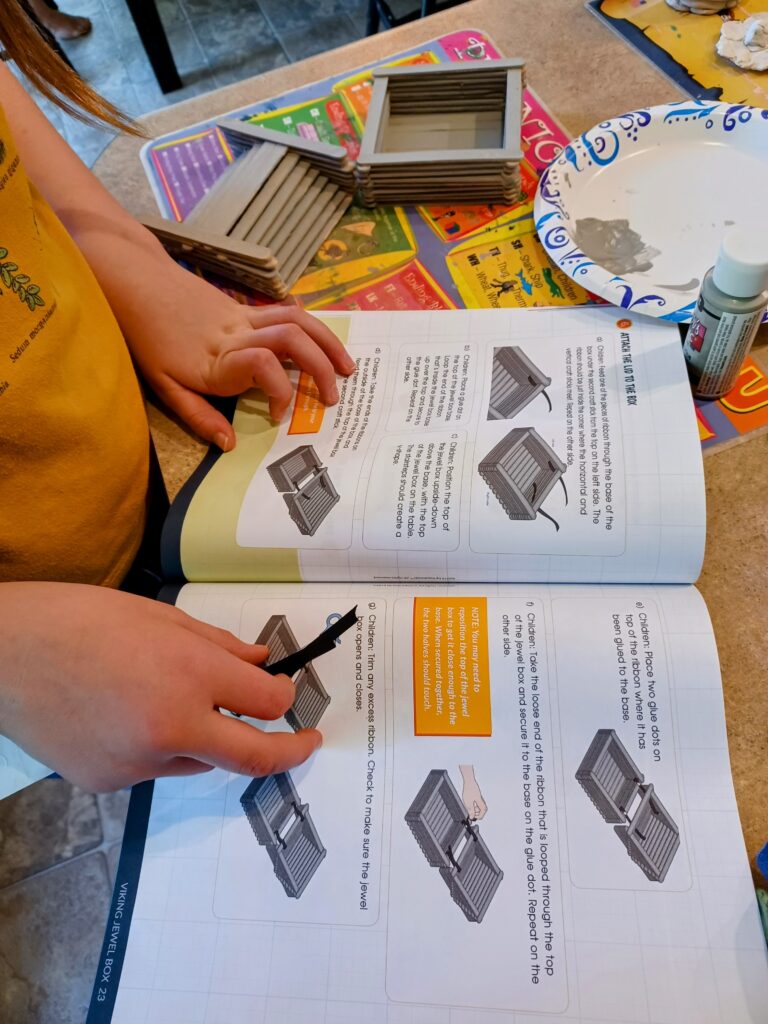 My 8 year old chose one of the more complex projects to start (a model of the 1903 Wright Brothers Flyer) and needed a little assistance with the fine motor skills required. He had seen the original a few months ago on our visit to the Air and Space Museum in DC, and he thought it was the coolest to make his own.
My absolute favorite thing about the Hands-On History box is that it includes all the materials I'd normally have to gather on my own. While we did have to supply our own scissors and ruler, the odd assortment of toothpicks, foam, paint, glue, etc were all prepped for us in neatly labelled baggies.
Each project comes in its own sealed bag, so it is easy to pull out one at a time without losing the materials for a different project.
In the same way the Sonlight Discover and Do science kit equipped us to actually get to science experiments on a regular basis, the Sonlight Hands-On History box enabled us to do a history project in our very first week back to school, with no stress for Mom!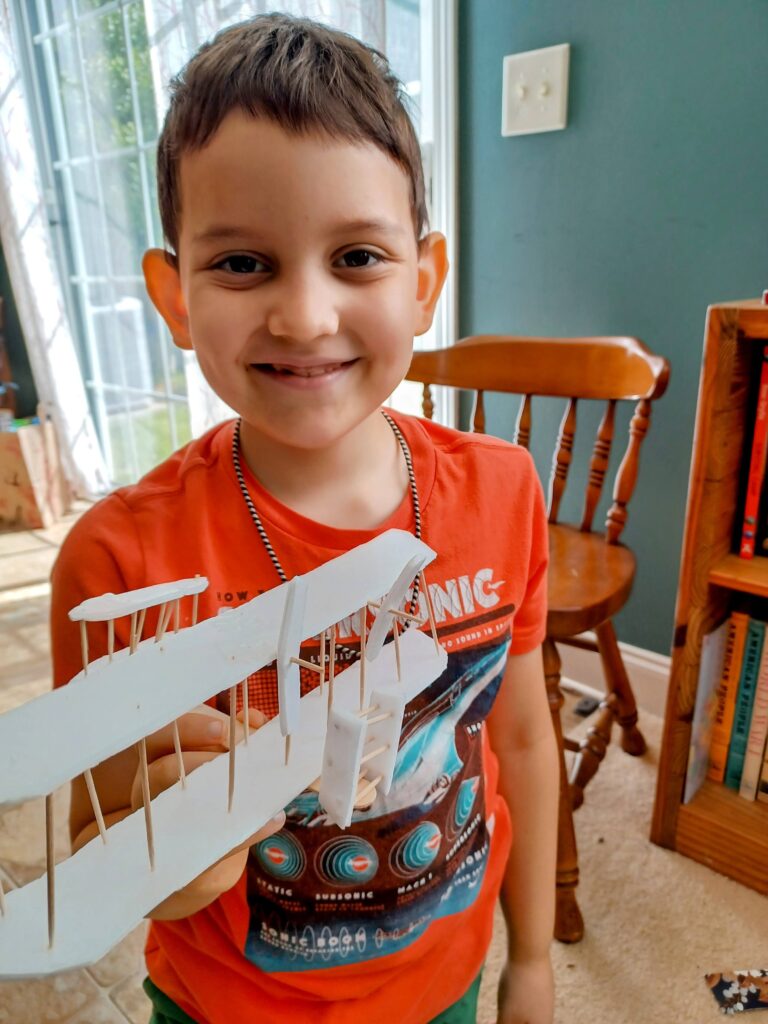 While this hands-on history activities kit is excellent for anyone using Sonlight's history curriculum, it's really an amazing open-and-go enrichment kit for any homeschool family. You and your children will learn more about unique topics, create tangible projects to exhibit learning, and continue to grow in your love of world history.
Project supplies (just add a few common household items like scissors, ruler, marker, etc)
Instruction booklet: this is a full-color guide with simple, illustrated, step-by-step directions. I'm not a crafty mom, as we've already established, and even I found them easy to follow!
A schedule: if you want to use it alongside your Sonlight program, this tells you which weeks to add the projects. But you don't have to follow this schedule. Our family didn't!
Astrolabe Quadrant
Viking Jewel Box
Viking Runic Carvings
Signet Ring
Stained Glass
Samurai Helmet
Letterpress
Globe Theatre
1903 Wright Brothers Flyer
Here are a few other Sonlight homeschool curriculum I've reviewed:
Over the past few years, I've had the opportunity to review a few examples of Sonlight's curriculum. This year I get to include even more new-to-us Sonlight curriculum in our homeschool, and I can't wait! You can read about our past experiences here:
If you've been looking for an open-and-go option that has more to offer than a set of boring textbooks and workbooks, Sonlight may be a great fit for you!