If the past few years have taught us anything, they've shown us that our expectations and plans may face unexpected changes.
Maybe you're tentatively planning to homeschool your preschooler, but you want to make sure they're ready for a traditional Kindergarten experience next year.
Or maybe you're considering homeschooling long-term, but you feel uncertain in your ability to plan and implement a pre-K curriculum at home.
I'm a 2nd-generation homeschooling mom of five, currently ranging from 7 to 17 years old. I am passionate about providing a unique, delightful, wonder-filled home education from preschool to high school.
I'm confident this can often be done in a textbook-free way. In fact, I have never bought a preschool curriculum for myself. (You can read how I homeschooled preschool here.)
But I'm also convinced that there is not just one right way to homeschool.
Different families and different children have different needs. That's why I curated this comparison guide to homeschool preschool curriculums, and that is why I'm sharing this post today.
Because a question I see coming up all the time online is from mamas of littles who desperately want to know: What is the best homeschool preschool curriculum? How do I get started teaching my preschooler at home?
They want an actual book or resource they can hold in their hand. They're looking for an assistant, a systematic helper who can lead them step-by-step through the (sometimes scary) process of taking a leap and trying something outside-the-box with their kids.
Can you relate?
If a DIY preschool curriculum sounds terrifying to you, you may want to consider using an open-and-go pre-K curriculum.
This post contains affiliate links. I received a product for free, and was compensated for my time. All opinions are honest and my own; I was not required to write a positive review. Please see disclaimer.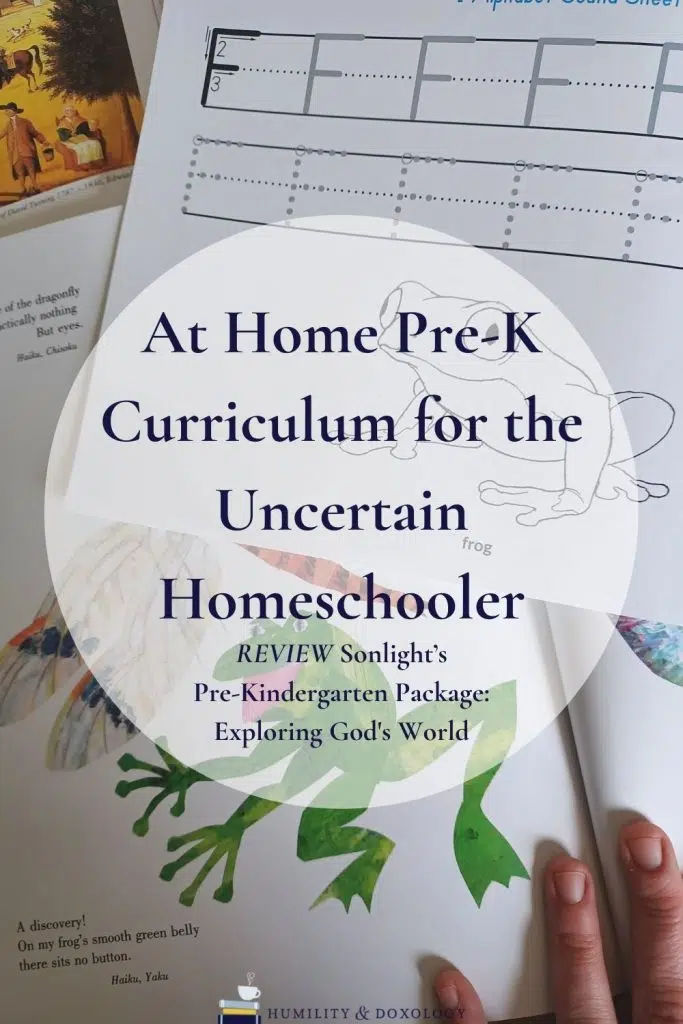 Sonlight's Pre-Kindergarten Package: Exploring God's World provides all the materials you might need to teach your 4 and 5-year-olds at home.
With an Instructor Guide which takes you by the hand and walks you through each day's lesson, a collection of diverse and engaging read alouds, hands-on activities to develop pre-reading and pre-math skills, and an integrated Bible curriculum, this homeschool preschool program is a good fit for the Mom who is unsure or reluctant about homeschooling. It's also a great option for the Mom who plans for her student to take a more traditional schooling path for Kindergarten and beyond.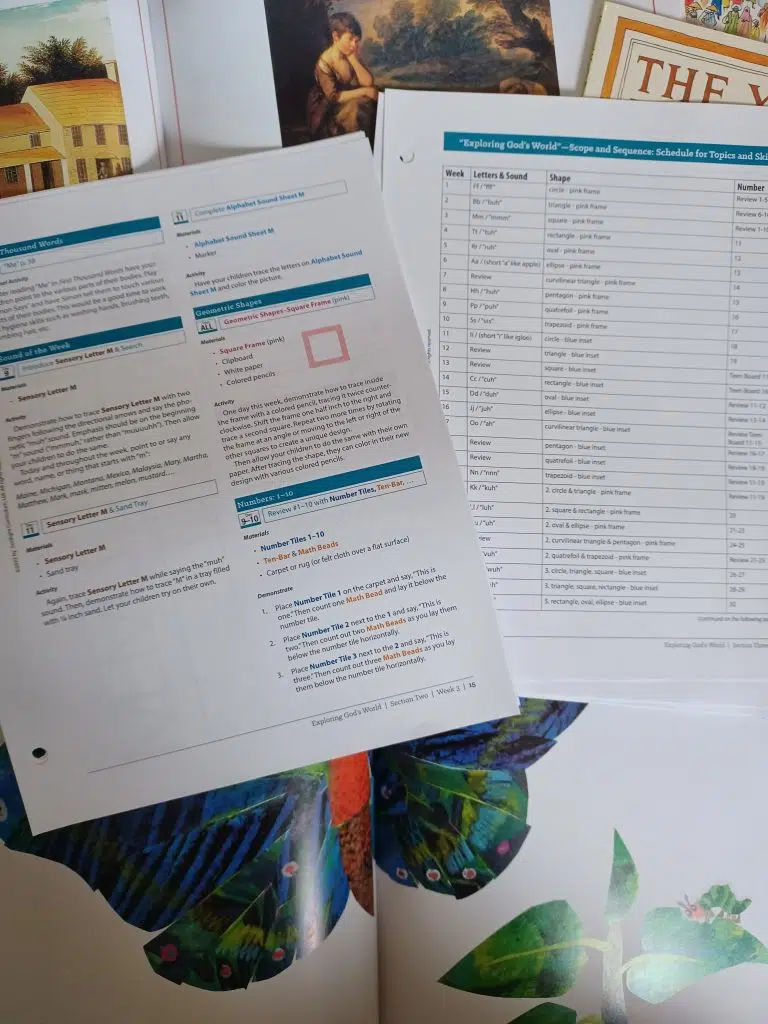 When you order a Pre-Kindergarten package from Sonlight, here is what you receive:
Sonlight Pre-K Instructor Guide
Sonlight's Instructor's Guides are a huge hit with busy homeschool moms looking for an open-and-go curriculum option!
No need to worry you're missing an important early education milestone. The Instructor's Guide lays everything out for you in a simple, easy-to-follow grid. You have your complete lesson plans ready to go for 36 weeks!
I love that it's designed for a 4 day/week plan which gives your schedule much-needed flexibility and allows you time to go out exploring with your little one.
Each week's pre-K schedule includes:
Bible
Read-Alouds
Pre-Reading and Writing Practice
Pre-Math Activities
Science
Additional Subjects (like Spanish, music, motor skill activities, worksheets, and practical life skills)
The "week at a glance" chart makes it easy to see the overall plan for the week so you can collect the particular books and other items needed ahead of time.
The following Instructor Guide pages provide you step by step guides to teach the lessons in each subject category. Some days you will find discussion questions, teaching tips, and suggestions for enrichment activities.
You don't have to go find the next pdf page on your computer; all the needed worksheets are printed out for you and ready to go.
Pre-K Bible
I believe that teaching our children about the Bible is the most important thing we do as homeschool families. Sonlight also takes the Bible seriously. Memory verses and Bible stories are included in the lesson plan each day.
Please do note that their included Children's Story Bible, 101 Favorite Stories From the Bible, includes images of Jesus. Parents with 2nd commandment concerns may wish to swap this out with another story Bible option. I recommend Catherine Vos's The Child's Story Bible. The edition published by Banner of Truth does not include images of Jesus.
Literature-Based Pre-K
Sonlight says that their "secret" is emphasizing great literature over textbooks. They take the guess work out of the book list, sending you all the books you need for the entire year when you purchase the preschool package.
The books included in Exploring God's World feature folk tales and other stories from around the world.
You'll also begin exploring the beauty of picture study with A Child's Book of Art, and who doesn't love the poetry and beautiful illustrations in Eric Carle's Animals Animals?
While some of these books may be familiar to parents of preschoolers, I appreciate that this kit goes beyond the expected library preschool book haul and exposes children (and their parents) to topics from world cultures to art to STEM!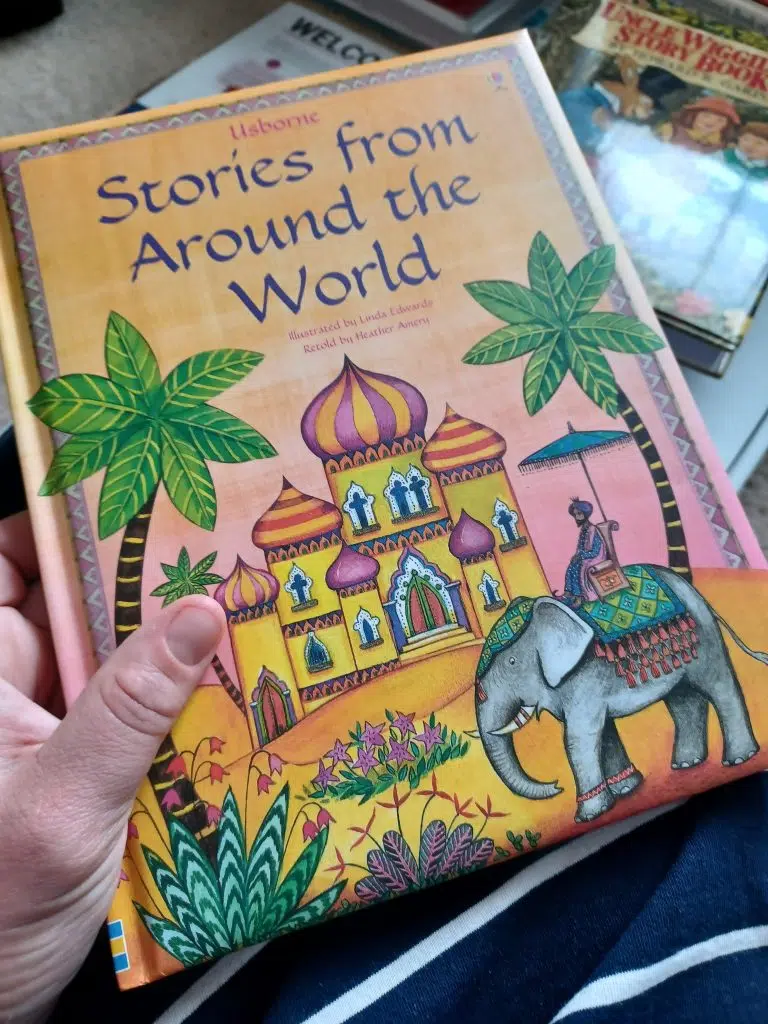 Hands-On Readiness Skills
This new pre-Kindergarten program from Sonlight includes Montessori-inspired materials and activities for pre-reading and pre-math skills. For example, the pre-k supply kit includes:
Math Beads
Sensory Capital Letters
Sensory Number Cards 11-30
Teen Board & Number Tiles
Sonlight also includes 4 workbooks with motor skill, auditory processing, story comprehension, and visual skill practice. Specific pages are assigned in the lessons plans week by week, so you don't have to worry about how or when to fit them in the schedule.
Are you:
Motivated by checklists?
Concerned that you will miss a pre-K skill your child will later need in a classroom Kindergarten experience?
Eager to prioritize reading aloud in your preschool plans, but want to combine it with some more structured learning experiences?
Overwhelmed by the idea of coming up with a homeschool preschool plan on your own?
Not sure if you want to continue homeschooling long-term, but willing to provide a preschool at home experience?
If any of those sound like you, I think Sonlight's Pre-Kindergarten Package: Exploring God's World could be a good fit for your family.
On the other hand:
If you're trying to balance the needs of several older children or younger children while also managing preschool
If you're overwhelmed at the thought of homeschooling and want to ease into things with a reduced preschool schedule
Or if you're quick to get stressed out when you don't "finish" every single item on a checklist
…this may be a more challenging curriculum for you to complete unless you're willing to adjust (or even leave out) some items on the weekly plan. You may also want to check out my homeschool preschool curriculum comparison guide here.
Of course, always know that if you need help using or customizing the Sonlight Instructor Guide, you can always reach out to a Sonlight advisor here.
Enter the GIVEAWAY to win your own copy of Pre-Kindergarten Package: Exploring God's World
Make sure to tell them Humility and Doxology sent you!