Hi friends! This is my monthly personal note to each of you, a behind-the-scenes sneak peek into the Sloan family Morning Time plans for March 2021. I just finished typing everything up and getting it ready to print out for our new Morning Time routine in March!
While the basic flow of Morning Time stays the same each month, we like to change our memory work on a regular basis. At first I thought March was going to be a pretty scattered mix of random material. But, as so often happens, I find that the things we are reciting, reading, and memorizing began speaking to each other. (Science of Relations, anyone?)
A bit of explanation for our March Memory Work choices:
We're studying ancient history right now, and the younger kids and I recently read about Julius Caesar. I was shocked to realize that they didn't remember having learned the passages from Shakespeare's Julius Caesar play, and then I remembered that they had been teeny tiny when we last included that in our Morning Time. So I decided to just choose 2 famous monologues from the play (which will be review for the older kids, new for the younger ones) and a page of famous quotes.
The famous quotes page is something we did for the first time this school year when we studied Antony and Cleopatra. It was actually really hysterical and fun to read through the list of quotes one after the other, dramatically changing our voices and demeanors to go along with each quip. It's also funny to hear the quotes finding their way into everyday conversation.
My kids have been asking for some Robert Burns, so I chose "Scots Wha Hae." But as I typed up our plans I realized that actually this goes along perfectly with the themes of tyranny and liberty in Julius Caesar.
Yeah, I totally meant to do that.
Interestingly, the Scripture passages I chose actually form a beautiful parallel and contrast with the same themes. God as our Shepherd-Leader and Savior can do for us what no earthly power can.
"From Depths of Woe" was my teen son's hymn request. And, yes, it also goes along perfectly with the failure of human effort and the hope we find in Christ.
Not included on the list is our daily viewing of WORLD Watch News. We typically watch that at 8am with prayer and the rest of Morning Time to follow.
You can read more here about how to choose the best memory work in your own homeschool, or head to the Year of Memory Work for a year's worth of free printable poems, speeches, and other beautiful pieces for recitation!
I'm going to add a free downloadable printable pdf of the below Morning Time plans to my email subscriber page. Make sure you subscribe to my email list for access to this and other freebies. (Already on my email list but have forgotten the password? Email me and I'll send you a reminder!)
Want other free Morning Time and Memory Work plans? Click here to see our plans for January and February.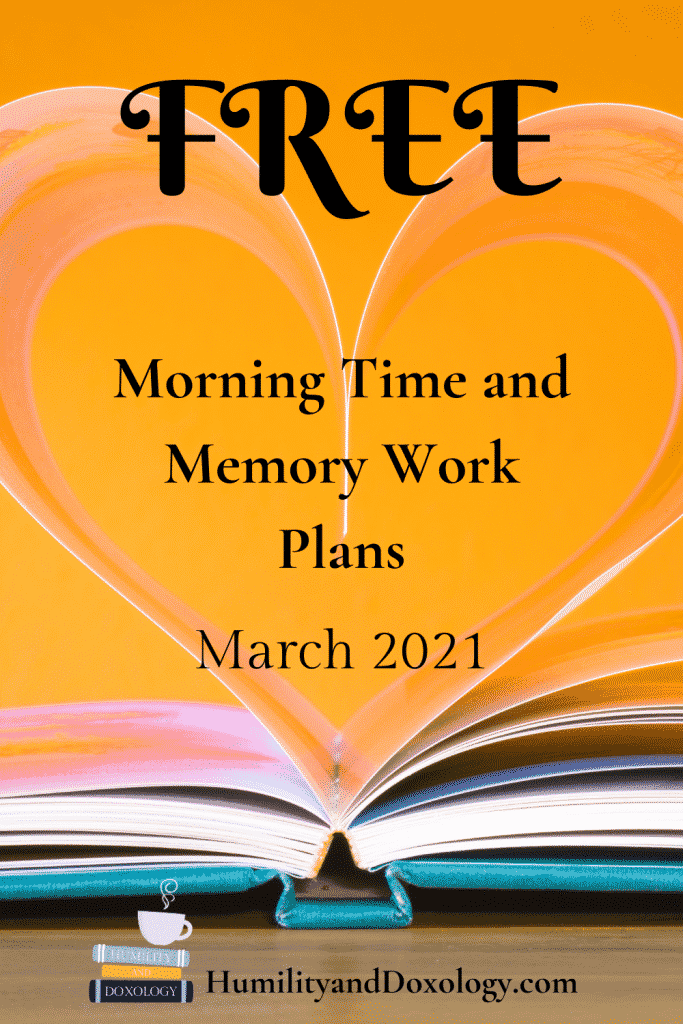 Morning Time and Memory Work plans March 2021
Prayer
Bible Reading: Mark
Bible Memory: Psalm 23, Revelation 21-22 (portions)
Read Aloud
Memory Work: Shakespeare ("Julius Caesar" monologues and key quotes), Robert Burns ("Scots Wha Hae")
Hymn: "From Depths of Woe"
Prayer
Minimum Viable Morning Time:
Prayer
Bible Memory
Memory Work
Prayer
Revelation 21:1-11, 22:1-7, 12-17, 20-21
Now I saw a new heaven and a new earth, for the first heaven and the first earth had passed away. Also there was no more sea.
Then I, John, saw the holy city, New Jerusalem, coming down out of heaven from God, prepared as a bride adorned for her husband.
And I heard a loud voice from heaven saying, "Behold, the tabernacle of God is with men, and He will dwell with them, and they shall be His people. God Himself will be with them and be their God.
4 And God will wipe away every tear from their eyes; there shall be no more death, nor sorrow, nor crying. There shall be no more pain, for the former things have passed away."
5 Then He who sat on the throne said, "Behold, I make all things new." And He said to me, "Write, for these words are true and faithful."
6 And He said to me, "It is done! I am the Alpha and the Omega, the Beginning and the End. I will give of the fountain of the water of life freely to him who thirsts.
7 He who overcomes shall inherit all things, and I will be his God and he shall be My son.
8 But the cowardly, unbelieving, abominable, murderers, sexually immoral, sorcerers, idolaters, and all liars shall have their part in the lake which burns with fire and brimstone, which is the second death."
9 Then one of the seven angels who had the seven bowls filled with the seven last plagues came to me and talked with me, saying, "Come, I will show you the bride, the Lamb's wife."
10 And he carried me away in the Spirit to a great and high mountain, and showed me the great city, the holy Jerusalem, descending out of heaven from God, 11 having the glory of God.
22 But I saw no temple in it, for the Lord God Almighty and the Lamb are its temple.
23 The city had no need of the sun or of the moon to shine in it, for the glory of God illuminated it. The Lamb is its light.
24 And the nations of those who are saved shall walk in its light, and the kings of the earth bring their glory and honor into it.
25 Its gates shall not be shut at all by day (there shall be no night there).
26 And they shall bring the glory and the honor of the nations into it.
27 But there shall by no means enter it anything that defiles, or causes an abomination or a lie, but only those who are written in the Lamb's Book of Life.
And he showed me a pure river of water of life, clear as crystal, proceeding from the throne of God and of the Lamb.
2 In the middle of its street, and on either side of the river, was the tree of life, which bore twelve fruits, each tree yielding its fruit every month. The leaves of the tree were for the healing of the nations.
3 And there shall be no more curse, but the throne of God and of the Lamb shall be in it, and His servants shall serve Him.
4 They shall see His face, and His name shall be on their foreheads.
5 There shall be no night there: They need no lamp nor light of the sun, for the Lord God gives them light. And they shall reign forever and ever.
6 Then he said to me, "These words are faithful and true." And the Lord God of the holy prophets sent His angel to show His servants the things which must shortly take place.
7 "Behold, I am coming quickly! Blessed is he who keeps the words of the prophecy of this book."
12 "And behold, I am coming quickly, and My reward is with Me, to give to every one according to his work. 13 I am the Alpha and the Omega, the Beginning and the End, the First and the Last."
14 Blessed are those who do His commandments, that they may have the right to the tree of life, and may enter through the gates into the city. 15 But outside are dogs and sorcerers and sexually immoral and murderers and idolaters, and whoever loves and practices a lie.
16 "I, Jesus, have sent My angel to testify to you these things in the churches. I am the Root and the Offspring of David, the Bright and Morning Star."
17 And the Spirit and the bride say, "Come!" And let him who hears say, "Come!" And let him who thirsts come. Whoever desires, let him take the water of life freely.
20 He who testifies to these things says, "Surely I am coming quickly."
Amen. Even so, come, Lord Jesus!
21 The grace of our Lord Jesus Christ be [with you all. Amen.
Psalm 23
The Lord is my shepherd;
I shall not want.
He makes me to lie down in green pastures;
He leads me beside the still waters.
He restores my soul;
He leads me in the paths of righteousness
For His name's sake.
Yea, though I walk through the valley of the shadow of death,
I will fear no evil;
For You are with me;
Your rod and Your staff, they comfort me.
You prepare a table before me in the presence of my enemies;
You anoint my head with oil;
My cup runs over.
Surely goodness and mercy shall follow me
All the days of my life;
And I will dwell in the house of the Lord
Forever.
Julius Caesar (Shakespeare) Famous Lines
Beware the Ides of March.
(Soothsayer, Act 1 Scene 2)
Men at some time are masters of their fates.
The fault, dear Brutus, is not in our stars
But in ourselves, that we are underlings.
(Cassius, Act 1 Scene 2)
Yond Cassius has a lean and hungry look:
He thinks too much: such men are dangerous
(Caesar, Act 1 Scene 2)
But, for mine own part, it was Greek to me.
(Casca, Act 1 Scene 2)
Let's carve him as a dish fit for the gods.
(Brutus, Act 2 Scene 1)
When beggars die there are no comets seen:
The heavens themselves blaze forth the death of princes.
(Calphurnia, Act 2, Scene 2)
Cowards die many times before their deaths,
The valiant never taste of death but once.
Of all the wonders that I yet have heard
It seems to me most strange that men should fear;
Seeing that death, a necessary end,
Will come when it will come.
(Caesar, Act 2 Scene 2)
Et tu, Brute?—Then fall, Caesar.
(Caesar, Act 3, Scene 1)
Cry havoc and let slip the dogs of war.
(Antony, Act 3 Scene 1)
Not that I loved Caesar less, but that I loved Rome more.
(Brutus, Act 3 Scene 2)
As he was valiant, I honor him. But as he was ambitious, I slew him.
(Brutus, Act 3, Scene 2)
Now let it work. Mischief, thou art afoot. Take thou what course thou wilt.
(Antony, Act 3, Scene 2)
There is a tide in the affairs of men.
(Brutus, Act 4 Scene 3)
Words before blows: is it so, countrymen?
(Brutus, Act 5 Scene 1)
Julius Caesar, Act 1, Scene 2, lines 142-160
CASSIUS
…He doth bestride the narrow world
Like a Colossus, and we petty men
Walk under his huge legs and peep about
To find ourselves dishonourable graves.
Men at some time are masters of their fates:
The fault, dear Brutus, is not in our stars,
But in ourselves, that we are underlings.
Brutus and Caesar: what should be in that 'Caesar'?
Why should that name be sounded more than yours?
Write them together, yours is as fair a name;
Sound them, it doth become the mouth as well;
Weigh them, it is as heavy; conjure with 'em,
Brutus will start a spirit as soon as Caesar.
Now, in the names of all the gods at once,
Upon what meat doth this our Caesar feed,
That he is grown so great? Age, thou art shamed!
Rome, thou hast lost the breed of noble bloods!
When went there by an age, since the great flood,
But it was famed with more than with one man?
Julius Caesar Act 3, Scene 2, lines 82-117
ANTONY
Friends, Romans, countrymen, lend me your ears;
I come to bury Caesar, not to praise him.
The evil that men do lives after them;
The good is oft interred with their bones;
So let it be with Caesar. The noble Brutus
Hath told you Caesar was ambitious:
If it were so, it was a grievous fault,
And grievously hath Caesar answer'd it.
Here, under leave of Brutus and the rest–
For Brutus is an honourable man;
So are they all, all honourable men–
Come I to speak in Caesar's funeral.
He was my friend, faithful and just to me:
But Brutus says he was ambitious;
And Brutus is an honourable man.
He hath brought many captives home to Rome
Whose ransoms did the general coffers fill:
Did this in Caesar seem ambitious?
When that the poor have cried, Caesar hath wept:
Ambition should be made of sterner stuff:
Yet Brutus says he was ambitious;
And Brutus is an honourable man.
You all did see that on the Lupercal
I thrice presented him a kingly crown,
Which he did thrice refuse: was this ambition?
Yet Brutus says he was ambitious;
And, sure, he is an honourable man.
I speak not to disprove what Brutus spoke,
But here I am to speak what I do know.
You all did love him once, not without cause:
What cause withholds you then, to mourn for him?
O judgment! thou art fled to brutish beasts,
And men have lost their reason. Bear with me;
My heart is in the coffin there with Caesar,
And I must pause till it come back to me.
Scots Wha Hae
Robert Burns
Scots, wha hae wi' Wallace bled,
Scots, wham Bruce has aften led;
Welcome to your gory bed,
Or to victory!
Now's the day, and now's the hour;
See the front o' battle lour;
See approach proud Edward's power—
Chains and slavery!
Wha will be a traitor knave?
Wha can fill a coward's grave!
Wha sae base as be a slave?
Let him turn and flee!
Wha for Scotland's king and law
Freedom's sword will strongly draw,
Freeman stand, or freeman fa',
Let him follow me!
By oppression's woes and pains!
By your sons in servile chains!
We will drain our dearest veins,
But they shall be free!
Lay the proud usurpers low!
Tyrants fall in every foe!
Liberty's in every blow!—
Let us do or die!
From Depths of Woe
1 From depths of woe I raise to thee
the voice of lamentation;
Lord, turn a gracious ear to me
and hear my supplication:
if thou iniquities dost mark,
our secret sins and misdeeds dark,
O who shall stand before thee?
2 To wash away the crimson stain,
grace, grace alone, availeth;
our works, alas! are all in vain;
in much the best life faileth:
no man can glory in thy sight,
all must alike confess thy might,
and live alone by mercy.
3 Therefore my trust is in the Lord,
and not in mine own merit;
on him my soul shall rest, his Word
upholds my fainting spirit:
his promised mercy is my fort,
my comfort, and my sweet support;
I wait for it with patience.
4 What though I wait the live-long night,
and 'til the dawn appeareth,
my heart still trusteth in his might;
it doubteth not nor feareth:
do thus, O ye of Israel's seed,
ye of the Spirit born indeed;
and wait 'til God appeareth.
5 Though great our sins and sore our woes,
his grace much more aboundeth;
his helping love no limit knows,
our utmost need it soundeth.
Our Shepherd good and true is he,
who will at last his Israel free
from all their sin and sorrow.
Sing to the tune "AUS TIEFER NOT"
Don't forget to subscribe to my email list! The printables for this month of Morning Time and memory work will be in the subscriber freebie resource page.
What are you including in your family's Morning Time this month?