Clap for Classics! offers delightful, affordable online music classes for your baby, toddler, preschooler, and kindergartner. If you have wanted to introduce your young children to classical music, but you aren't quite sure where to begin, Clap for Classics! offers you an opportunity to make musical memories with your children in your own home regardless of your own musical (or lack thereof) background.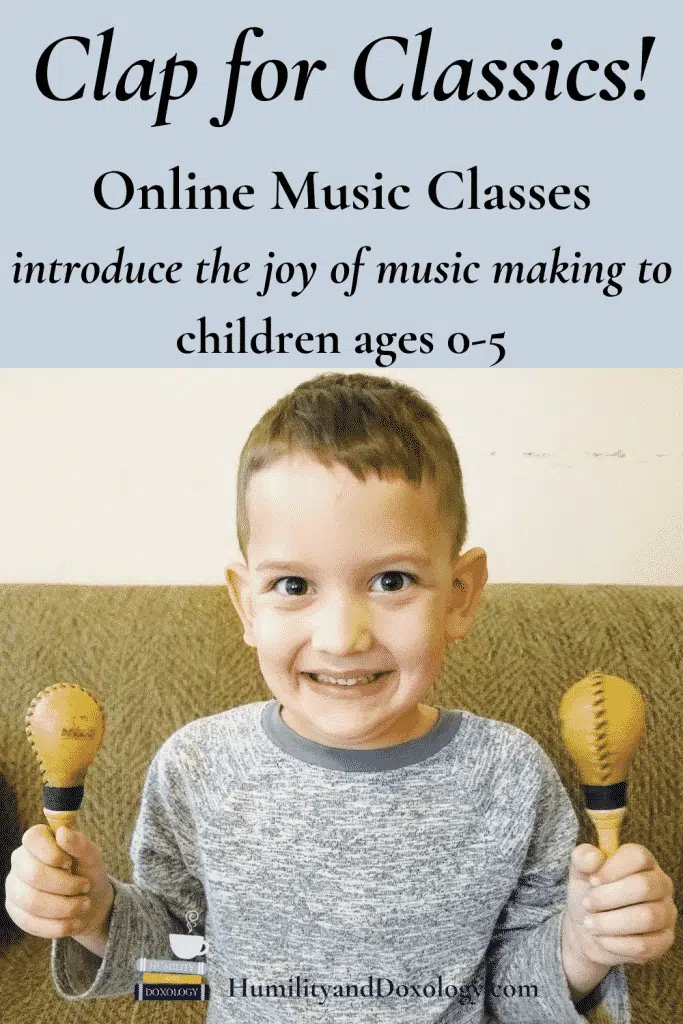 This post contains affiliate links. I received a product for free, and was compensated for my time. All opinions are honest and my own; I was not required to write a positive review. Please see disclaimer.
My 5 year old son has been entranced by the engaging, educational online music classes from Clap for Classics!. It isn't unusual to hear him singing "Ram Sam Sam" (a Moroccan song we learned in "A Musical Trip Around the World," one of the monthly music courses we enjoyed) or to see him stop and get excited when he sees a picture of one of the instruments he's met in the "Meet the Instruments" special videos.
One evening, Isaac nonchalantly asked, "Hey, Daddy. Do you know what a Hungarian Dance is?" (a delightful piece by Brahms from "A Musical Trip Around the World."). The multi-sensory approach to classical music appreciation provided by the Clap for Classics! courses has truly engaged his imagination, and he's retained many more details about rhythm, musical terminology, and instruments than I expected!
When I was a toddler and preschooler, my mom regularly took me to "Mommy and Me" style interactive music and movement classes. This began my life-long love of music, piano, rhythm, and sound. (I'm still known to randomly begin spinning and singing in the kitchen, but that's a subject for another day.)
When I had my first child, I was eager to pass on this love and to share special moments with music together. But as I added more children to our family and additional schedule responsibilities, it became more and more difficult to find time to include this important priority in our day. I'm so thankful for the special memories and musical fun Clap for Classics! courses have given me and my youngest child this year!
Clap for Classics! Online Music Classes for Young Children
Clap for Classics! provides online music courses geared toward ages 0-5. Sisters and classically-trained musicians Elizabeth and Kathryn bring their enthusiasm for music (and their experience as early childhood music educators and moms of littles) to every course they teach.
Monthly Music Course Subscription
Monthly, live music courses (taught via zoom) are a perfect option if you want the accountability and interaction of a live class time. Your children will also get to see the faces of their other classmates and interact with their instructor.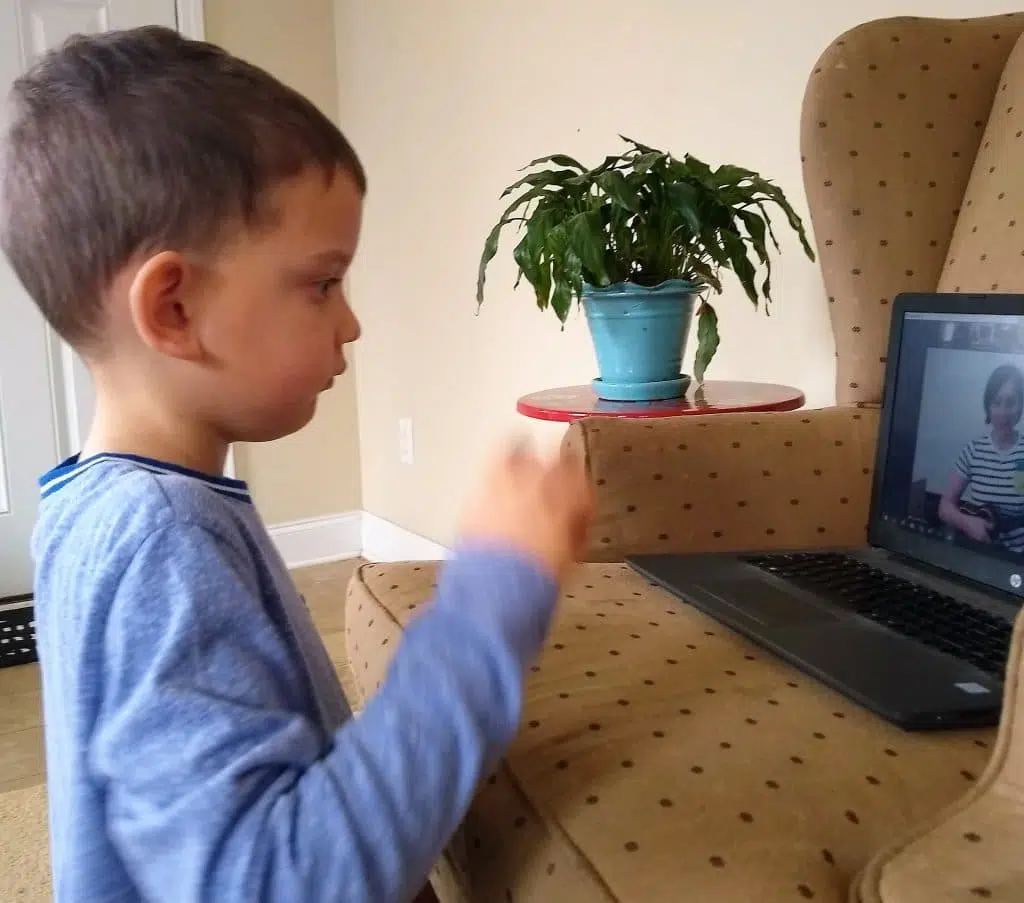 When Isaac and I had the opportunity to observe a live class, he was a little timid at first. He soon overcame his shyness and began singing and dancing with the group. He especially loved it when Elizabeth said his name in her welcome song!
Elizabeth's young daughter joined her in class, and it was encouraging as a mom of a sometimes-distractible child to see how Elizabeth gently and kindly guided her own child through the music class. For any parent who feels intimidated by the thought of teaching music to your young child, I think that observing Elizabeth and Kathryn as they engage with their own children is one of the true benefits of these classes!
Since my little guy is the youngest of 5 children, and the two teens in the family already fill our day with online courses at specified times, I was especially drawn to the fact that the monthly music subscription also comes with all the material you need to complete the course at your own pace, plus tons of supplemental course material. Isaac and I have spent many hours exploring the various "Meet the Instruments" videos, where professional musicians introduced us to instruments as varied as the clarinet, harp, and santour!
Each monthly course focuses on a major work of classical music, but also includes original music by the Clap for Classics! founders and a variety of other songs.
10-15 short, easy to follow instructional videos that include a mix of songs and classical music activities.
Printables with notes for the parent and lyrics to the songs
Supplemental resources like downloadable playlists and coloring pages
Access to a weekly live Zoom class
Support and community in a private Facebook group.
The only downside I can find to share about these courses? While the Clap for Classics! music classes are designed for young children, they were highly engaging to my older elementary children as well. There were many times I looked around to find the math books lying forgotten on the floor while my 8- and 10-year-old participated along with their younger brother!
So if you're not willing to have your older children sneakily learning about classical music along with your toddler, preschooler, or kindergartener, you may want to give these courses a pass. 😉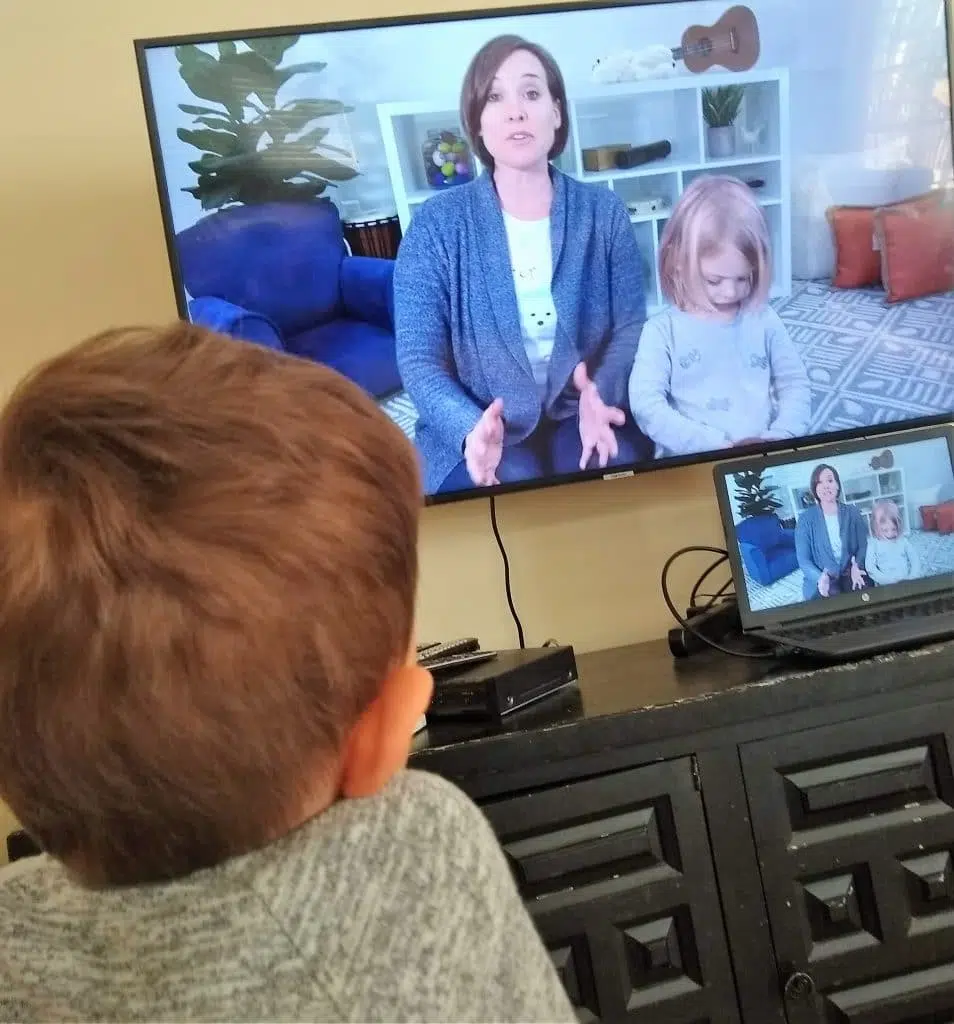 Other Clap for Classics! Music Course Bundles
You should also try one of the Clap for Classics! music course bundles!
The Carnival bundle provides 3 months of music instruction based around "Carnival of the Animals" by Saint-Saëns.
The Peter and the Wolf bundle (Isaac's and my favorite) provides 2 months of music instruction centered around Sergei Prokofiev's famous work.
These music courses, like all the Clap for Classics! music courses for young children, feature stuffed animals and puppets with names like "Staccato," "Forte," and "Piano" to help your little one learn important musical terms.
They will also learn concepts like rhythm, musical form, rhyming, movement, and more. There are even bits of Spanish and sign language sprinkled throughout!
Clap for Classics! is for Babies, too!
Can you include your baby and toddler in music time? Yes! Nursery Rhyme Baby Time is not merely a music course for your 0–2-year-old (although an older toddler may also enjoy the videos). It's also an opportunity to encourage parents, educate them, and equip them to introduce their littles ones to classical music!
Kathryn says in the intro video to this course, "Studies have shown that singing, even more than talking, keeps babies calm and can lead to stronger social bonds with parents, improved health, and even greater language fluency."
Songs and Listening Activities
Bonus Videos
Audio Tracks
Playlists
Printables
Invest in quality relationship time with your younger children while the older kids work independently. Singing, moving, and experiencing the joy of music together strengthens those precious relationships.
Incorporate music appreciation into your gentle homeschool preschool or kindergarten plans. My younger children have always wanted to "do school" like their older siblings, and these gentle, delightful music courses would be a perfect way to make them feel like they're part of the big kids' homeschool.
Include older siblings! Perhaps an older child could engage their younger sibling with some of the simple songs and movement activities while Mom has one-on-one time with another child. It's a win-win: sibling relationships strengthened, and focused homeschool instruction time for Mom!
But I'm already a musical parent. Is Clap for Classics! for me, too?
As a life-long pianist and former piano instructor, I know that sometimes the biggest hurdle is not so much knowing what to do as it is finding the motivation and momentum to get started! Clap for Classics! has given me a way to fill in the missing gaps with my littlest guy this year, and it's been a joy for us both.
I also reached out to my daughters' piano teacher, a fellow Clap for Classics! mom. Why would she choose to join Clap for Classics! when she is a music teacher herself? Here's what she said:
"I chose to sign up for Clap for Classics classes because my son (5 yo) loved the blog samples so much. We watched the clip from the December Nutcracker class and he started asking Alexa to play Tchaikovsky, asking me to play the clip again and again, and building "sleighs" from the snow scene in the living room. I wanted to capitalize on his interest, so we invested in the classes. As a music teacher myself, I can build on what he's learning in class throughout our days together and when he's ready for formal lessons as an older child he'll be that much more prepared and, importantly, engaged with his senses and imagination."