It's always easier to memorize something when it's set to music, and the Greek Alphabet is no exception.
One difficulty of being a mom of many is that sometimes you're sure you've taught the children something…only to realize you only taught it to the older kids! Oops! That happened to me earlier today. I was riding in the van with my 8 year old, and we somehow started talking about one of the Greek letters. I said, "you know, like in the Greek alphabet song."
Silence.
She had no idea what I was talking about.
So, of course, I had to start singing! I think we may need to sing this a few times a day until it sinks down into the younger kids' memories as well!
Why learn the Greek Alphabet?
Learning the Greek alphabet is not just for classical homeschoolers, although Greek can be a good alternative (or addition) to classical education's emphasis on Latin.
Christian educators find value in studying Greek since the New Testament was written in Koine Greek. Even a basic understanding of the Greek alphabet makes it easier to look words up in a concordance and delve into deeper study of the original text of the Scriptures.
And since the Greek letters make the same sound as their names, Greek is relatively easy to learn how to read phonetically. (Alpha, for example, makes the "a" sound. Beta makes the "b" sound. And gamma says "g.")
The Greek alphabet is also widely used in math and science, so learning the Greek letters will come in handy even for your STEM-minded kids.
What are the 24 Greek words?
The letters of the Greek alphabet are: alpha, beta, gamma, delta, epsilon, zeta, eta, theta, iota, kappa, lambda, mu, nu, xi, omicron, pi, rho, sigma, tau, upsilon, phi, chi, psi, omega.
These are also sometimes referred to as the 24 Greek words.
What is the fastest way to memorize the Greek alphabet?
I really do believe that it's always easier to memorize something through song. The Greek Alphabet is no exception.
In fact, because the Greek Alphabet can be intimidating for some learners, setting it to song can make it more fun and accessible!
What is the Greek Alphabet Song?
This simple Greek Alphabet song is perfect to add to your morning time rotation. It's great for helping you work on your foreign language studies. It's also really fun to sing as fast as you can while you're riding in the minivan with the kiddos.
If you want to take your Greek studies to the next level, I recommend checking out the Greek Alphabet Code Cracker from Classical Academic Press.
Classical Academic Press also offers Song School Greek (for grades 1-3) and Greek for Children (for grades 4 and up) if you're looking for a Greek homeschool curriculum for elementary and middle school.
I recorded the video below for an Instagram story originally, but it will still be useful to you all! If you want to skip the intro and go right to the song, go to the 0:36 mark.
I also made some fun Greek alphabet bookmarks, and they're available to download on the page exclusive to my email subscribers. Sign up here and you'll have access to a variety of colors, including this one!
Want to learn the Greek alphabet as part of your homeschool history studies? Check out my textbook-free resources for multi-age learning here.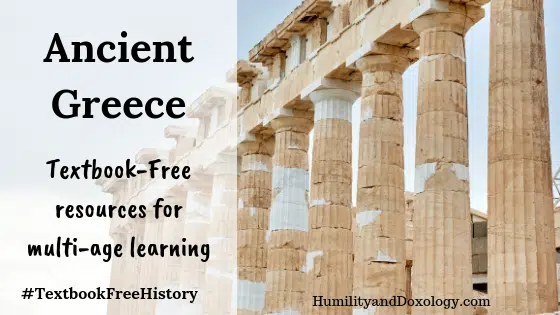 Learn more about the Greek Alphabet with these free videos from Classical Academic Press
Song School Greek: Introduction to the Greek Alphabet
SSG TE intro to alphabet cut from Classical Academic Press on Vimeo.
Song School Greek: traditional pronunciation
SSG TE trad pron cut from Classical Academic Press on Vimeo.
Join the conversation on Facebook and Instagram. Do you have any favorite memory work songs?
Check out my bones of the human body song here!