Learn why Latin for Children from Classical Academic Press is my pick for the best homeschool Latin curriculum!
I took Latin for several years as a homeschool student and continued my studies with 2 semesters of Latin in college. My favorite of those classes was the semester we did nothing but Latin readings! We'd come to class, read the Latin text, and translate it aloud with our professor. This is when my love of Latin really blossomed. So when it came time to choose the best homeschool Latin curriculum for my own children, I had a few important priorities.
It was important to me that our Latin curriculum be geared towards translation. After all, Latin is a dead language. We aren't going to run into someone on the street from Ancient Rome and greet them with an enthusiastic "Salve!" But just because Latin is "dead" doesn't mean it has to kill us with boredom. I wanted my kids to be able to start applying their Latin learning in translation from the very beginning.
At the same time, it was also important to me that any Latin curriculum I chose for our homeschool included clear grammatical teaching and extensive vocabulary. An intuitive approach, while it can work wonderfully in modern languages where the goal is conversation, was probably not going to be a good fit for the way my and my children's brains work. In addition, one of the most valuable benefits of studying Latin is learning the logic of its grammar and form, so I wanted to make sure our Latin text provided that depth of instruction.
Finally, I looked for a homeschool Latin program that we could use consistently from elementary school to high school without ending up with any gaps in our knowledge.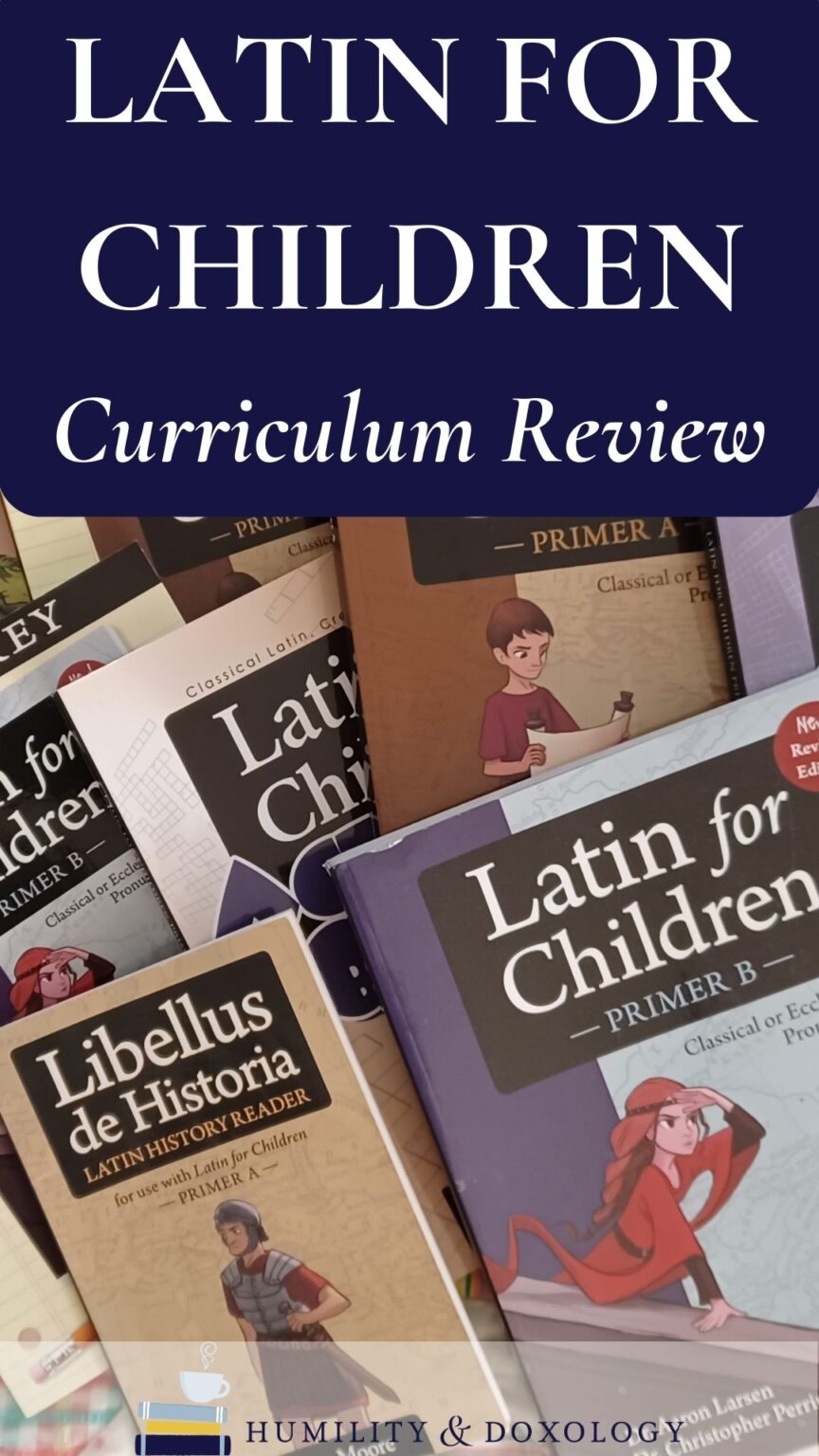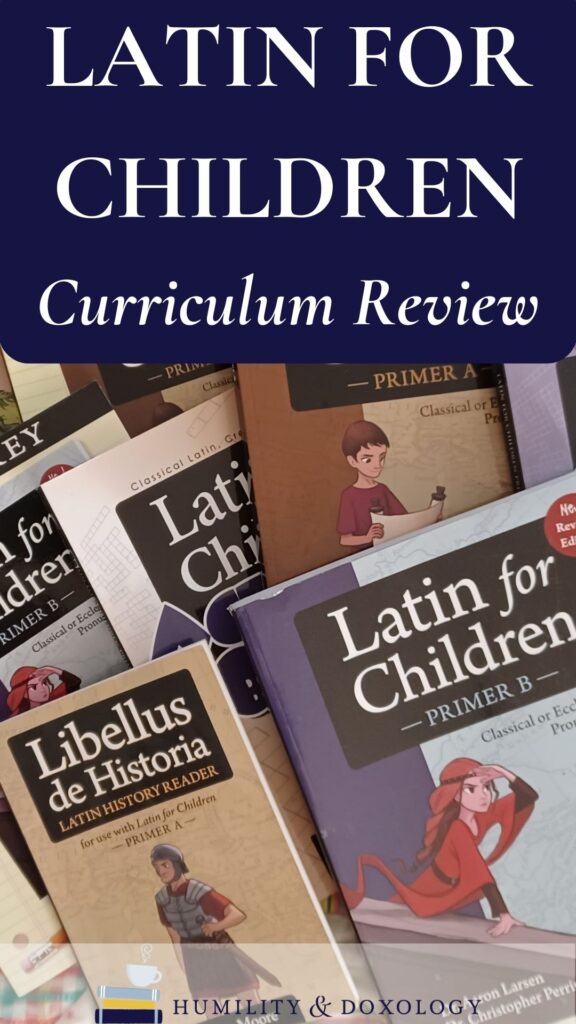 This post contains affiliate links. I received a product for free, and was compensated for my time. All opinions are honest and my own; I was not required to write a positive review. Please see disclaimer.
As a young, eager classical homeschooler, I dove into researching Latin curriculum and flipped through dozens of curriculum options at my local homeschool bookstore. I quickly realized that the Latin curriculum from Classical Academic Press was the best option for our family!
Through March 23, 2023 use coupon code HUMDOX for free shipping on your order of Latin for Children!
Why study Latin?
If you're reading this post, I am somewhat assuming that you already want to teach Latin in your homeschool, but you just aren't sure which is the best curriculum to choose.
However, if you're interested in learning more about why Latin is a valuable and worth including in your homeschool program, check out this list of the Top 10 Reasons to Study Latin. (Hint: it's not just for nerdy classical home educators!)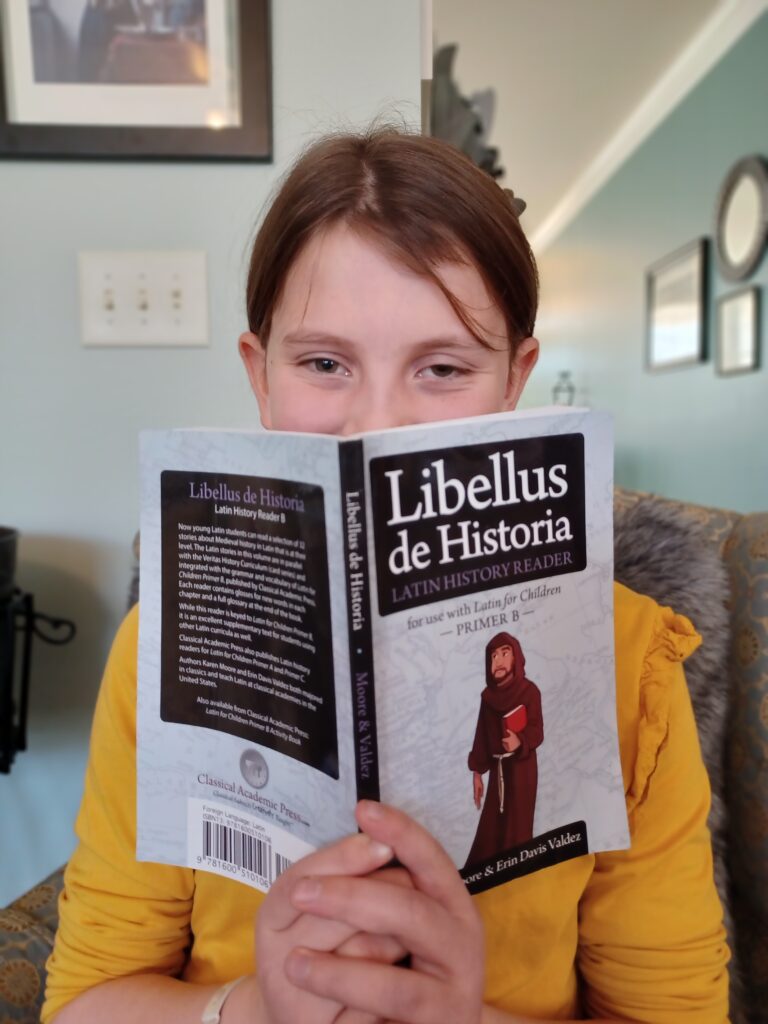 For an alternative perspective on the best way to approach Latin studies, check out my interview with Angela Reed, a Charlotte Mason Latin teacher.
What Latin curriculum from Classical Academic Press is best for every grade?
Classical Academic Press has a full course of Latin curriculum for every age in your homeschool:
Song School Latin is a delightful, 2-year introduction to Latin for your youngest learners, grades 1-3.
Latin for Children is a 3-level course of study for grades 4- 7.
Latin Alive provides 3 years of high school level Latin curriculum for students in 8th grade and up.
Our family has personally used every single level of the Classical Academic Press Latin curriculum over the past 12 years of our homeschool.
One piece of advice I would give from personal experience: don't start too early, unless your child is really excited about learning Latin! I've learned that the hard way with a couple of my middle children.
I could go on and on about each book individually, but today I want to focus on Latin for Children, the Classical Academic Press homeschool Latin curriculum for late elementary to middle school.
What is included in the Classical Academic Press Latin for Children curriculum?
Latin for Children consists of 3 sequential levels: Primer A, Primer B, and Primer C. These 3 levels are best used for your late elementary or middle school students.
At the end of Latin for Children Primer C, students will have a thorough language foundation equipping them to succeed in high school Latin 1 or another Romance foreign language.
The complete Latin for Children Primer program consists of the following material:
Student text and workbook
Answer key
History Reader
Activity Book
Video/Audio instruction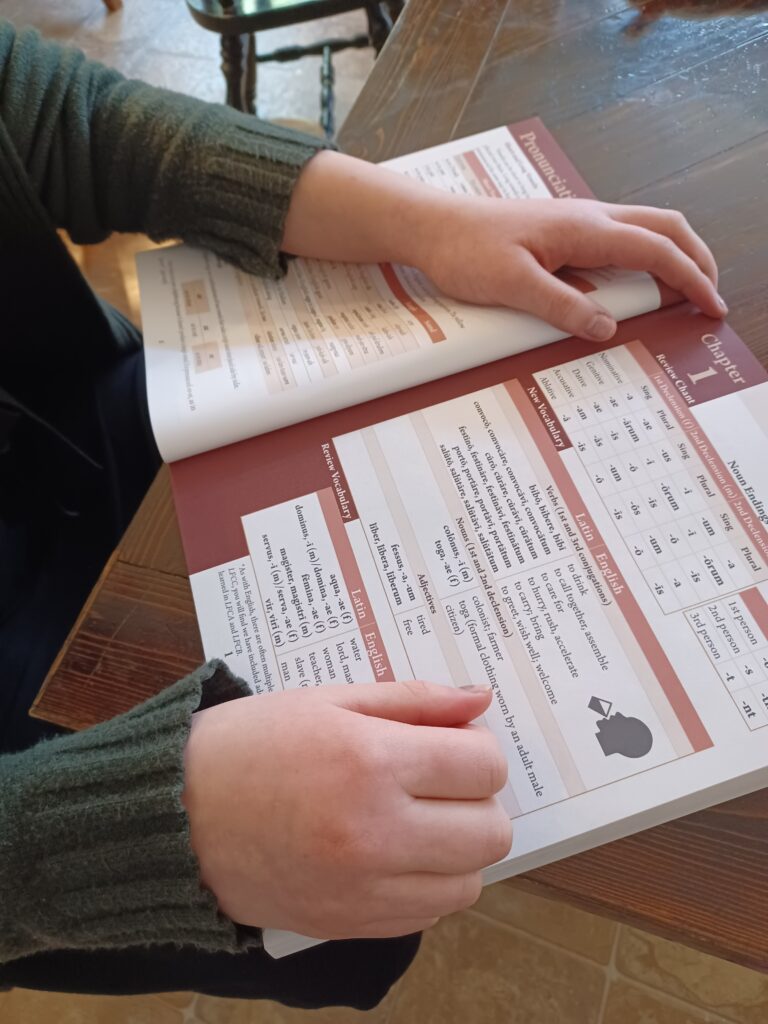 The student text is the core, essential element of the program. Written in a conversational style, it is designed so that the student can easily read and understand each lesson without ever dumbing down the material.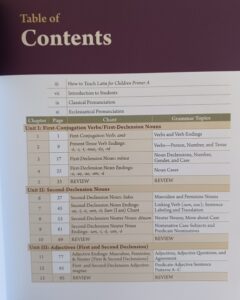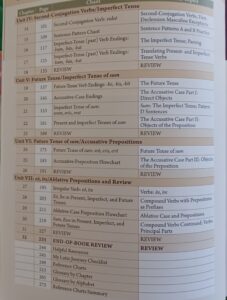 Helpful charts, chants, and diagrams are placed throughout the book, and are compiled in the appendices as well for easy reference.
Also included in the appendices are 2 glossaries. One is organized alphabetically and one is organized by chapter.
New lessons include chapter Latin maxims, grammar chants, vocabulary lists, chapter story, a grammar lesson, worksheets (including translation, grammar, vocabulary work, derivatives, etc.), and a quiz.
Every 2 to 4 chapters, there is a unit review chapter to reinforce and review the concepts that have been taught. In addition, the final chapter of the text is a cumulative review. I love the repetition that is worked throughout the primer!
Each Primer includes historical information from a different era, beginning in Ancient Rome (Primer A) and culminating in early American history (Primer C).
The revised editions of Latin for Children include full color illustrations.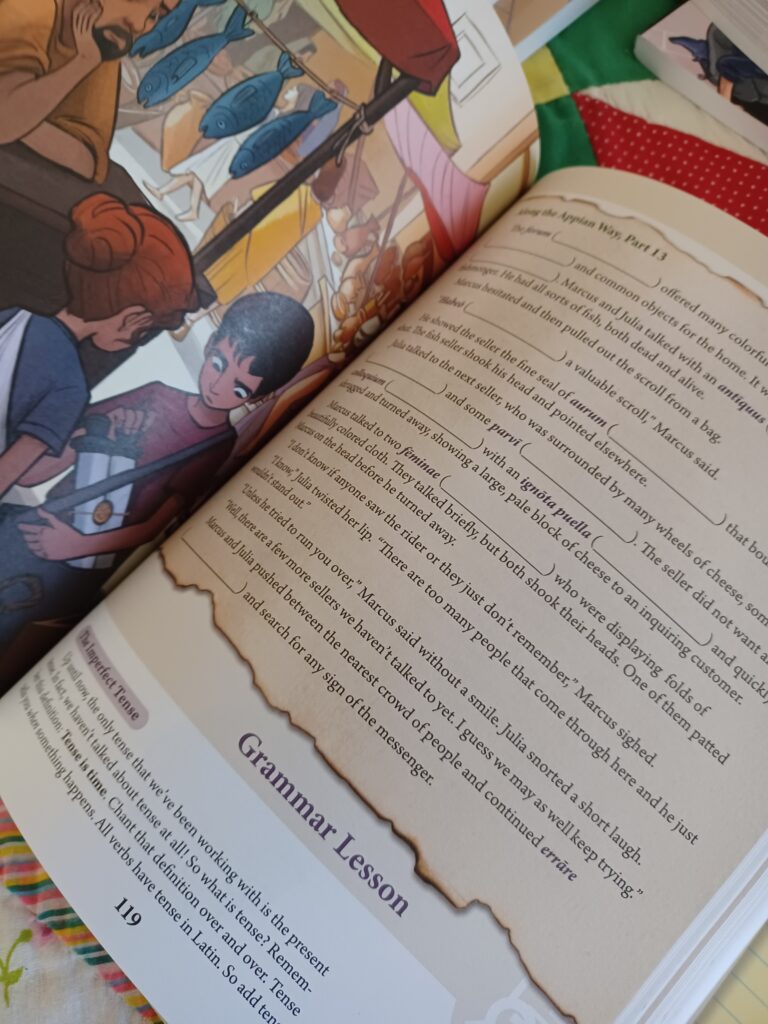 One of my favorite things about the most recent revised editions of Latin for Children are the diglot weave adventure stories that introduce each chapter! A diglot weave story splices Latin vocabulary into an English story so that students begin to gain Latin reading fluency even when they are just learning basic vocabulary and grammar. Plus, the serialized story is just plain fun!
And speaking of fun, Latin for Children has all the things that I love about all the Classical Academic Press materials we've used over the years: they're rigorous and highly academic, but never take themselves too seriously. There's always a bit of humor, a wink, and a smile in both the texts and the accompanying video instruction.
The answer key is simply that: an answer key for the student primer. It occasionally has an additional note or tip, but does not provide any further instruction material. You really don't need anything extra since the student primer is so easy to read and understand and the video instruction is so thorough.
I love the Latin history readers, Libellus de Historia! The Primer A history reader begins with a few sentences per chapter, but by the end of the Primer C history reader students are translating 2-3 pages worth of Latin. The readings correspond with the history, vocabulary, and grammar covered in the primer texts.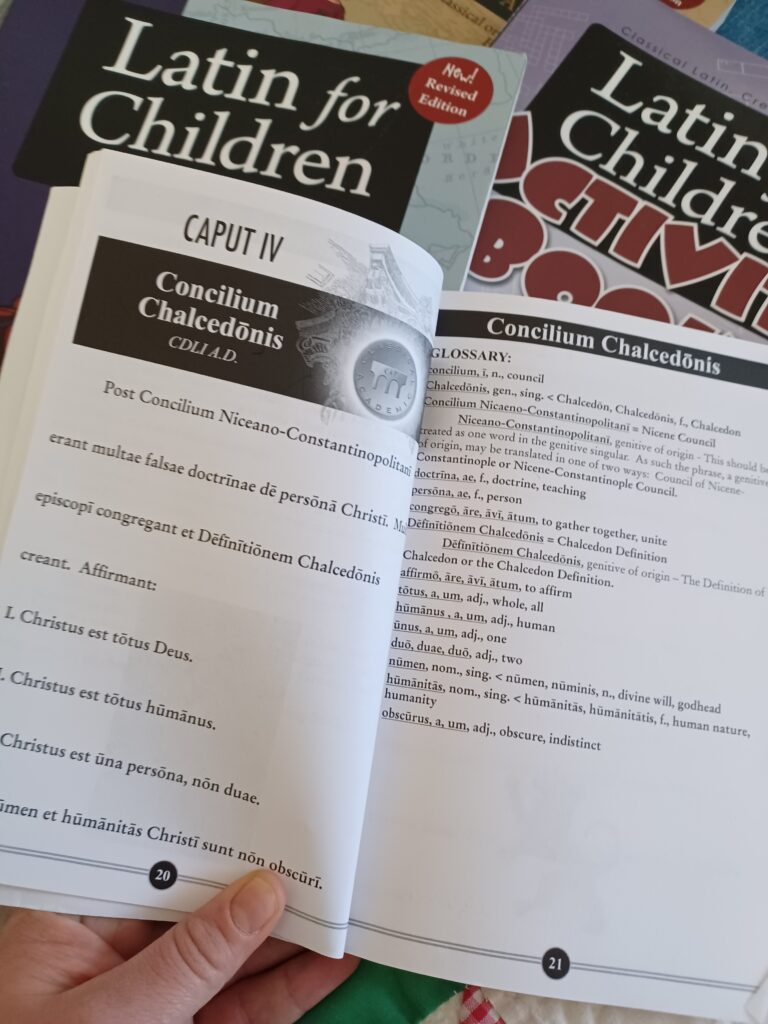 While the Latin readers are not necessarily an essential part of the program, I do highly recommend adding them to your Latin studies, even if it means you move more slowly through the text. This is, remember, why we're studying Latin in the first place! And if your student chooses to continue to pursue Latin language studies at a higher level, the translation practice will come in handy for things like the National Latin Exam.
This current year in our homeschool, I'm actually using the History readers as our primary Latin review texts in preparation for moving to new, more challenging levels next year. It gives my children time to mature emotionally/mentally for the upcoming challenge without losing the skills they have acquired.
In addition, even if you use a different Latin curriculum, these history readers would make an excellent supplement to your studies. The table of contents clearly lays out what grammar topics are assumed for each chapter, so it would be simple to correlate it with whatever Latin you are studying.
Ok, true confession. We don't usually actually use the Latin for Children Activity Books! I know, I know. It's terrible. I'm not a fun mom at all.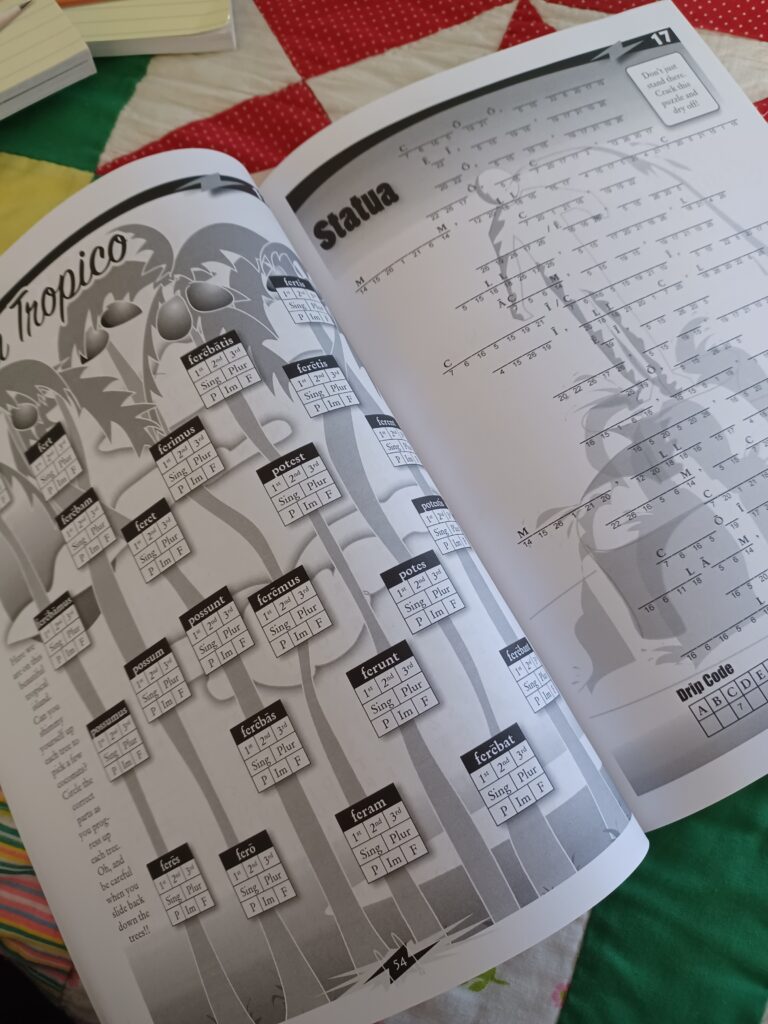 The Activity books are, after all, pretty fun. They include crossword puzzles, games, and a variety of other activities to reinforce the chapter lessons.
We haven't typically used them during the school year just because there is only so much time in the day, and I'd rather prioritize translation over activities.
We have profitably used the Activity Books, however, during the summer for reinforcement/review or when a child needed a brain break from the more academic Latin work.
I could also see the activity books being a great option if you were using the Latin for Children curriculum in a co-op setting.
If you feel comfortable teaching the Latin lessons on your own and are committed to faithfully chanting the grammar and vocabulary with your children, the video lessons (available in DVD and streaming form) are not absolutely necessary. In my early years teaching Latin, I did it myself.
However!! Time is a huge factor for any homeschool parent, and even as someone who feels confident as a Latin teacher, I find the fantastic instruction provided by Dr. Christopher Perrin to be well worth the purchase of the Latin for Children streaming video instruction!
And for the homeschool parent who has no Latin background, these video lessons take away any anxiety about including Latin in your homeschool!
I therefore highly recommend you include the Latin for Children video instruction in your curriculum plan!
Each lesson taught by Dr. Perrin (~20-25 minutes) goes over the chapter material in an engaging, thorough way. The audio files go over the vocabulary and grammar chants so your student isn't having to always do it on their own. And with the streaming version of the lessons, you can take Latin with you on the road wherever you go!
What Latin pronunciation does Latin for Children follow?
The student primers give instruction for both ecclesiastical and classical pronunciation of Latin. The audio files include options in both pronunciations as well, so you can chant according to your own preference. Our family uses the classical Latin pronunciation since that is what is used academically. Those who are vocalists or Catholic may prefer the ecclesiastical pronunciation.
Is Latin for Children for beginners?
You can begin Latin for Children Primer A with no prior Latin experience.
Will Latin for Children give a good Latin language foundation?
When you complete Latin for Children Primer C, you will have received a thorough grounding in the Latin language. In fact, Latin 1 at the high school level may feel like review! My teens have used Classical Academic Press Latin through Latin Alive 2 and Latin Alive 3 respectively, and both did very well on the National Latin Exam several years in a row. One of my teens has also found her Latin background to be a helpful tool as she now pursues French as her foreign language.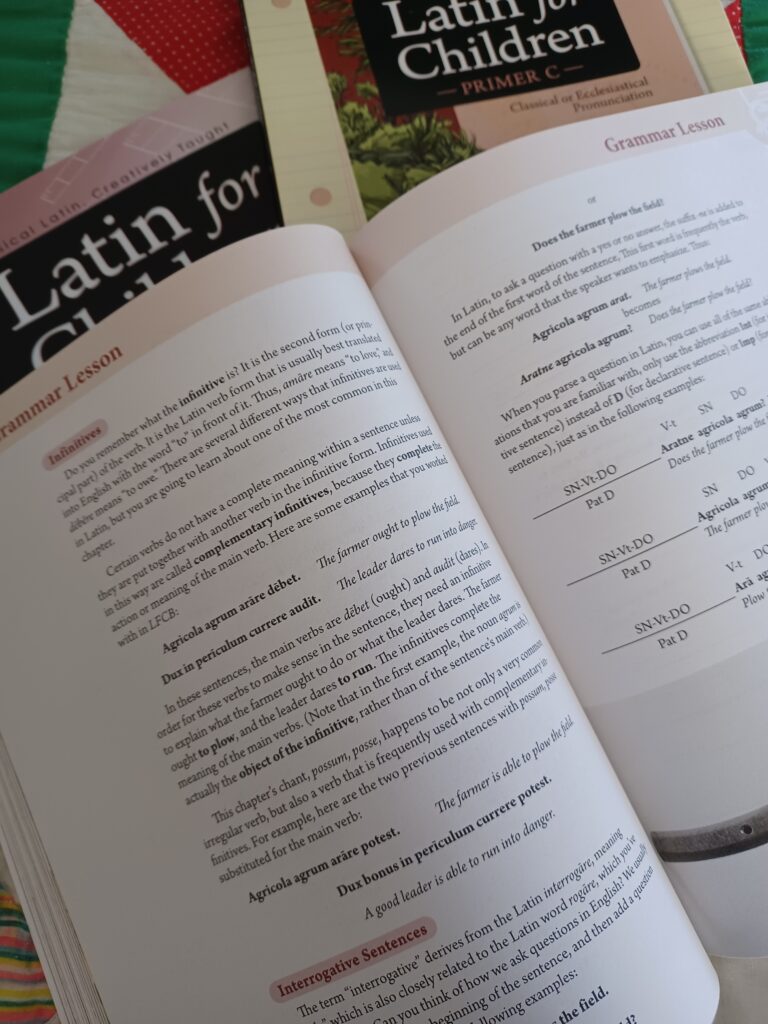 What if Mom doesn't know Latin?
The student text in each Latin for Children primer is designed to clearly lead you each step of the way. Latin for Children is designed to be user friendly, no prior knowledge of Latin required.
For further assistance, I highly recommend the video instruction, available in streaming or DVD format, taught by classicist Dr. Christopher Perrin. Homeschool moms can easily learn Latin right alongside their children using this curriculum!
I found a used copy; is it the same Latin for Children?
Like any good homeschool mama worth her salt, I'm always on the hunt for used curriculum! However, be aware that the old editions of the primer and answer key are not compatible with the new, revised editions. The revised editions have been expanded and updated and are the only ones you want to purchase!
At the time of this publication, Primer A was last updated in 2017. Primer B was last updated in 2018. Primer C was last updated in 2020.
Classical Academic Press has provided a free shipping code for Humility and Doxology readers!
Click here and use code HUMDOX for free shipping until March 23, 2023.