When I was a child, we had laminated strips of brightly colored paper lining the wall of our homeschool room. As we studied our homeschool history lessons (textbook-free, of course), we would add timeline characters of key figures and events to the colorful timeline on our wall.
The timeline served to visually display the various people, places, and events we were learning about. We could see their relationships to one another, and notice at a glance the order in which history had progressed.
I always assumed I'd do a timeline with my own kids one day, but our housing situation has never really lent itself to the big wall timeline. Plus, my husband is not so much interested in our family spaces being "decorated" with homeschool materials.
I even got a Book of Centuries several years ago, like a good Charlotte Mason-inspired homeschool mama, but it has sat, lonely and completely empty, on the shelf ever since. It just felt too complicated to come up with all the ideas and plans for it on my own.
This post contains affiliate links. I received a product for free, and was compensated for my time. All opinions are honest and my own; I was not required to write a positive review. Please see disclaimer.
That's why I was so excited to have the opportunity to look over the Printable Essential Timeline Library from Home School in the Woods!
Not only does it include over 1400 printable timeline figures, but it even comes with a figure placement guide so I never have to figure out on my own what goes where.
Ok, y'all. I've printed out my figure placement guide that covers Early American History (the time period we plan to study in our homeschool next year). I think this may finally be the year I take a homeschool history timeline out of the past and into my present reality!
The Printable Essential Timeline Library is a set of pdf downloads that include the following:
HISTORY Through the Ages Collection of Historical Timeline Figures (a 1,263-figure collection containing: Creation to Christ, Resurrection to Revolution, Napoleon to Now, America's History, and 80 Bonus Figures)
Add-On Pak-1 (24 modern figures of the 20th and 21st centuries)
Add-On Pak-2 (47 modern figures of the 20th and 21st centuries)
Add-On Pak-3 (110 figures from ancient times to the 19th century)
Record of Time" Printable Timeline Notebook
Printable Suggested Placement Guide
It took me a bit of time to decipher my downloads. Each element of the Essential Timeline Library is downloaded separately as a zip file. Once you extract your files, you have to do a bit of figuring to see where each element is and what things you need to actually print first.
I'd recommend you start with the file called, helpfully, "Instructions- READ FIRST." It gives a brief guide to printing, hole-punching, and figure placement.
Next, decide if you want to place your figures in a horizontal or vertical format. Open the suggested placement guide in the corresponding orientation.
Don't plan to use the figures in a typical timeline fashion? I found that the placement guide was still actually the most helpful way to find all the applicable figures for a certain period of time. So open either the horizontal or vertical placement guide and scroll to the time period you will be studying.
I went ahead and printed out the pages corresponding to our Early American History studies for next year, but you could certainly just look at the pdf digitally if you prefer.
Now you can figure out what pages from the various sets of timeline figures you need to actually print out.
Because you actually have 8 different sets of timeline figures bundled together in this Essential Timeline Library, it gets a little tricky to make sure you have all the figures you need for a particular time period. The placement guide (plus a bit of patience and time) was invaluable to help me find the necessary pages in the various sets.
You have the option to print the timeline figures on their own or print them out with descriptive text.
You also have the option to print them in notebook (smaller) or wall (slightly larger) size.
The great thing about this printable timeline library is that any homeschooler can use it as part of their history plan, regardless of what curriculum you're using. All ages can use it together, and a history timeline can be of benefit within any home education philosophy.
Here are a few different ways you can implement a history timeline in your own homeschool:
Wall Timeline
I really do have such lovely memories of the history wall timeline from my own childhood. If you have the space to make this work, and if you aren't going to be bothered by the busy-ness of this form of wall decor, I highly recommend it.
You can use a roll of butcher-block paper to line your wall, adding dates along the intervals. You could also use thinner strips of paper or even use a thick roll of painters tape as well.
The Home School in the Woods printable timeline includes printable timeline figures that are slightly larger than the notebook size figures if you want to use them on a wall timeline.
Timeline Notebook or Book of Centuries
Use either a sketchbook (or other blank notebook), a pre-printed/bound Book of Centuries, or print out your own timeline pages! (Home School in the Woods includes both horizontal and vertical printable timeline notebook pages in their Essential Timeline Library.)
You can hole punch pages and keep them in a standard 3-ring binder. You could also decide to place the pages in plastic covers to help them last longer and prevent pesky hole tearing that is the bane of hole-punched papers!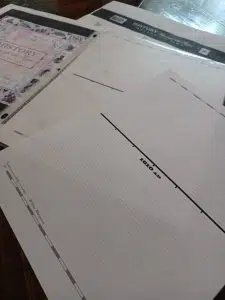 History Lapbook
Lapbooks are a great hands-on project to keep a record of all your children have learned in their history studies! All you need are regular file folders, printable timeline figures, and a little creativity.
Each lapbook becomes a portfolio of all you've studied. You can include short pieces of writing/copywork, illustrations, and (of course) timeline characters to represent key people from each unit of study. Learn how to make a homeschool lapbook here.
Other Uses for Timeline Figures
Of course, there are so many other creative ways to use timeline figures. Your children can make up their own card game or board game using the cut-out figures and descriptions.
If your children keep a reading journal like mine do, they could cut out timeline figures to illustrate their written narrations.
Need to keep little hands busy while you're reading aloud? Print out the timeline pages that correspond to the historical period you're learning about, and let the kids color while you read.
Through July 31, 2022, use discount code 10off50 for $10 off your $50 Home School in the Woods purchase.
Home School in the Woods GIVEAWAY
One winner will receive the Printable Essential Timeline Library $109.95 value (digital product)
One winner will receive a single Time Travelers U.S History Study (winner's choice) $28.95 value (digital product)
If you can't see the giveaway form, click here to enter.