Homeschool moms are no stranger to the discouraging experience of educating and raising our families in the midst of what sometimes seems to be a complete disaster. Mary Kathryn Cone, a mama of 5 little girls ages 7 and under, including toddler twins, is in the thick of homeschooling with lots of little kids around! She's no stranger to the way an ordinary Tuesday can feel like an extraordinary mess. Today, however, she shares a Gospel-centered perspective that just might change the way you think about the mess around your home… and within your own heart.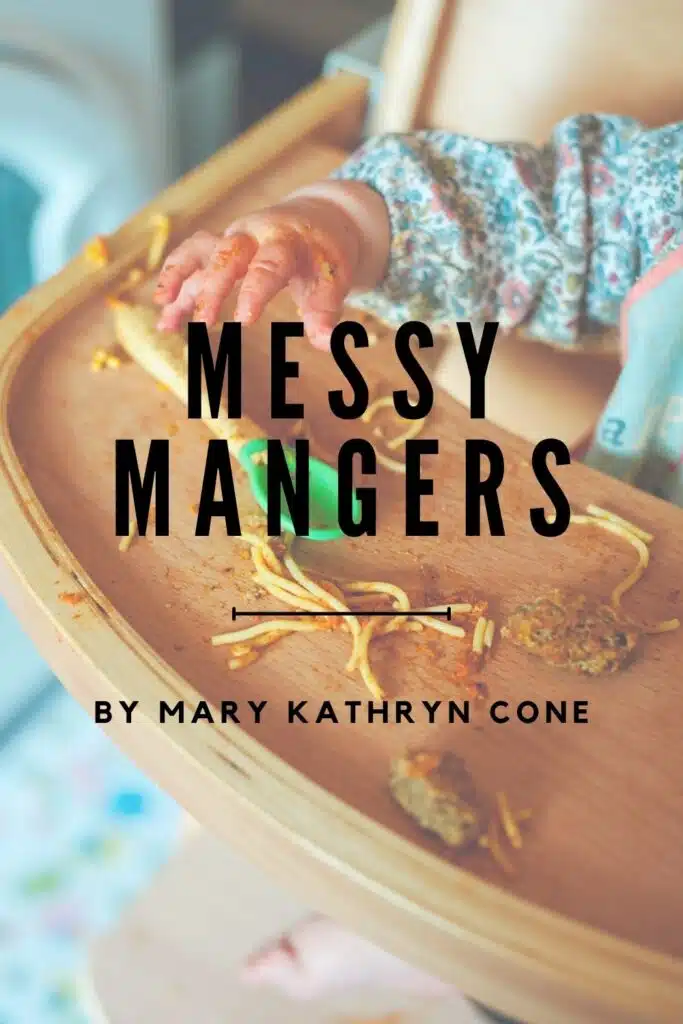 Messy Mangers,
by Mary Kathryn Cone
It's Tuesday. The day begins with waking five girls and diapering twin toddlers, breakfast, rounding up girls who forget their table chores, checking bedrooms to find unmade beds and then again reminding girls of daily tasks, detangling five wild heads of hair, clearing a path through the den which is already full of busy play, and finally Bible time.
But then someone needs a diaper and after I change it, the others must be herded again. Then the babies decide to participate in reciting our memory passage by shrieking with joy, and as we read our chapter for the day, they empty the board books onto the floor. When stray paper books have been saved from destruction and the clutter somewhat managed, we start into lessons.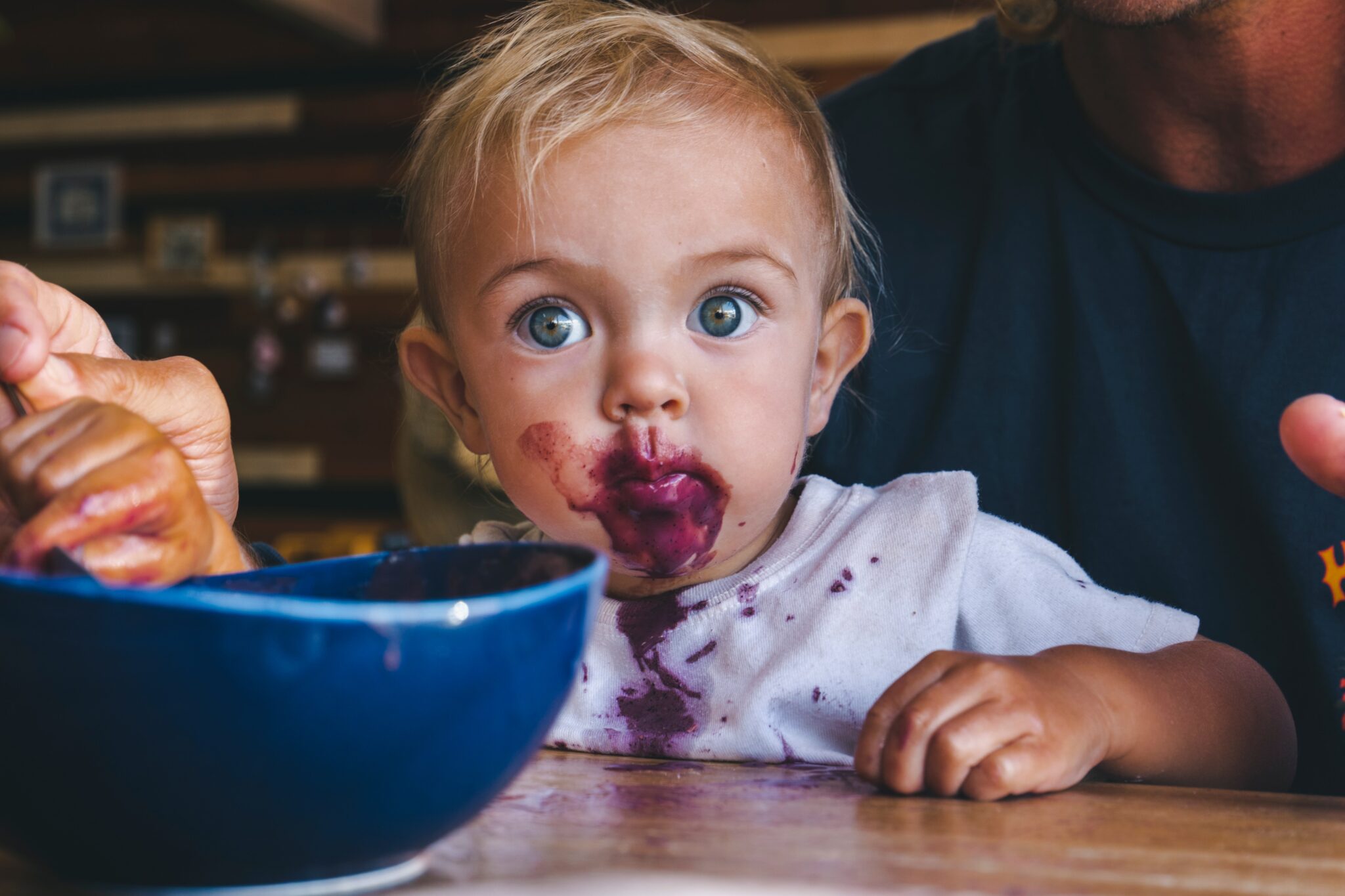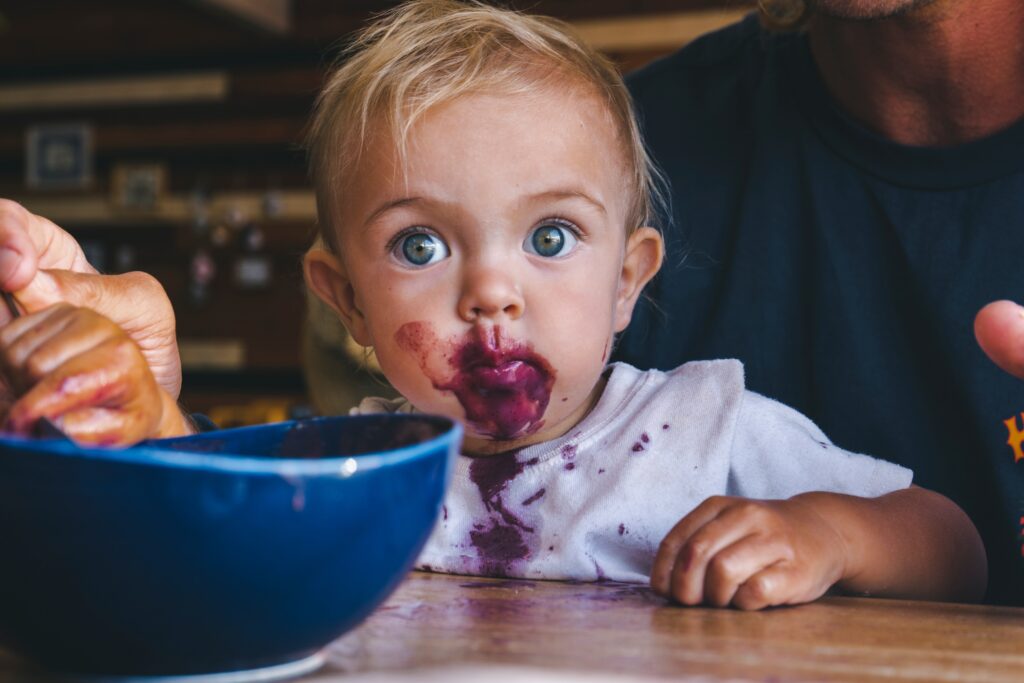 During math with my oldest, my five-year-old, who is always mothering someone, drags all the bedding from the big girls' room to make the coffee table a bunk bed and puts the twins "to nap," despite their loud protests. During her turn to read with me, we work through a big, tearful mood and someone leaves the bathroom door open, allowing the twins to unroll the toilet paper and leave a watery mess, which, thanks to their barefoot outdoor time earlier, is also a dirty watery mess.
Muscling through the morning, I coach girls through disagreements, pray myself out of grumbling and anger, and fight back chaos at every turn. We make it to lunch, during which the three-year-old drops all of her orange peels on the floor where before I notice, the toddlers pounce on them to chew them, leaving tiny soggy orange bits all over the den rug.
We play some music for clean-up: can we do it all in two songs? It should be easy, but as fast as the big girls put away toys, the little ones follow behind to take them out again. Finally the joyful orange peel-chewing mess-makers are safely in naps, the house is tidy, and we enjoy a story before quiet time. Which is dinner prep time, during which I let the rice boil over, leaving a burnt-on film to scrub later and a new grumble growing in my heart. And so it continues – the daily mess.
"Where there are no oxen, the manger is clean, but abundant crops come from the strength of the ox." – Proverbs 14:4.
I had one or maybe two kids, the oldest being two at the most, when the verse first struck me, and I took it at face value for a while, amazed that God would put a verse like that in the Bible. About messy mangers? It's clearly applicable by extension to messy houses, and since the Lord saw fit to include it in the wisdom literature of His holy word, apparently it is pertinent to all of humanity across continents and millennia. I imagine messy homes and mangers in the ancient near east, in medieval Europe, in colonial America, and all the men and women across the ages heaving a sigh and mucking them out yet again. There is nothing new under the sun.
Recently, though, I've been pondering a more significant meaning. This verse is not merely about a messy manger or a messy house. The mess of raising children is so much deeper than the clutter and sticky floors, it's the mess of sinful and selfish hearts, first and foremost my own.
Living in isolation is (seemingly) convenient and tidy. There's no one at home to disagree with or rub the wrong way, and no one to leave muddy shoes on the rug. Growing a family, in contrast, is messy, hard, frustrating, and fruitful.
No, the house isn't always tidy. No, our hearts aren't always joyful in the Lord. No, there isn't always perfect peace in our home. But daily, we work through the mess to cultivate what we pray will be lives that bear fruit a hundredfold, adorn the gospel, and bring glory to our Father.
Taking a step further, I think this verse is about more than merely the challenges and joys of our individual family lives. As I constantly need to remind myself, God is my Father, and His fatherly love must be the pattern by which I love my children. My love for them must be an overflow of His love for me. He lives with a messy manger too. Oh, does He ever.
The triune God, three persons in one being, was perfectly happy from eternity. Father, Son, and Spirit existed in perfect mutual enjoyment, love, and glory. Where there is no creation, no people to rebel against Him, nothing mars God's perfect joy. Everything is pristine. Yet He purposefully entered an inconceivable mess, for us, out of love.
Because as enormous as the mess of a sinful, rebellious world is, the fruit of His perfect patience, unfailing love, and incredible gift of forgiveness in that mess is even better: countless eternal-souled, forgiven image-bearers of God full of joy in knowing and worshiping Him. We know the world will be full of sin and suffering and evil until the final judgment, so we should know that our raising of children will continue to be messy too.
Of course we should pursue loving relationships in our homes, we should strive to model and nurture kindness and gentleness, imitating Christ, and we should work to keep our homes orderly.
But conflict, mess, and difficulty despite our faithful, prayerful efforts are not evidence of failure or delinquency, they are reminders of God's faithfulness.
Our lives are messy because fallen children's souls and bodies are being fed and nurtured by fallen parents. God's creation is messier by the day, as He continues to endure the unimaginable tension of perfect holiness tolerating unjudged sin. He is perfectly patient as He faithfully raises all of His messy children in His messy world.
Messy oxen produce abundant crops; messy children grow our hearts toward Jesus every day as we depend on Him in our mothering and apprehend His patient love for us; messy creation grows God's glory as one by one, His children's hearts are made new and rejoice. And as we steward the mess, we pray that our children are in that number.
Sometimes, the mess starts to swallow me. I can't see a way through. Our days seem so hard. What can I change? Where am I wasting time? How can I train the children to help more? How can I better help them work out their quarrels? How can we make our days more efficient? When am I ever going to dust that grimy ceiling fan? Valid questions to consider, yes. But better workflow will not ultimately eliminate my mess or save my children.
"Unless the LORD builds the house, those who build it labor in vain. Unless the LORD watches over the city, the watchman stays awake in vain. In vain do you rise early and go late to rest, eating the bread of anxious toil, for He gives to His beloved rest. Behold! Children are a heritage from the LORD, the fruit of the womb a reward."
The Lord reminds us so clearly in Psalm 127 that He has given us this messy blessing, and He is the One who can bring order from chaos and bring forth abundant fruit. He calls us to behold, to pause, appreciate, and give thanks for the wonderful blessing we have been given, even though it's messy, trusting Him to do the work that only He can.
So yes, let's plan and work diligently toward peaceful, loving, ordered homes, but also, let's stop fighting for control over this mess. Oh, it's a mess around here! A joyful, noisy, intense mess. Messy clothing drawers, messy bookshelf, messy sibling squabbles, messy school times, messy toddlers whose favorite game is to drop giant skillet lids on the floor for the fun noise.
I'm also a mess – a mess of sin, distraction, fitfulness rather than faithfulness – and the Lord bears with me still. Isn't it interesting, in light of all this, to consider that the Lord Jesus Himself was born into a messy manger? Surely He has borne our griefs and carried our sorrows; that is why He came.
He will bear with us. He will build the house, and He gives to His beloved rest. Your children are a blessing, and you are following His will in training them up to know and love Him, and it will be messy.
So, beloved of the Lord, receive the rest He wants you to enjoy, and keep on working through the mess, nurturing tender hearts, remembering that God is faithfully doing the very same thing with you until Jesus comes or He calls you home.
Mary Kathryn is wife to Josh and mom to five little girls who keep things lively! She dreams of a little farm someday and enjoys learning new skills with her girls in the kitchen and garden.
You may also be interested in: