Want an easy-to-use science curriculum that inspires wonder and curiosity in your elementary age students? Apologia's Young Explorer Series may be just what you're looking for!
This post contains affiliate links. I received a product for free, and was compensated for my time. All opinions are honest and my own; I was not required to write a positive review. Please see disclaimer.
Longtime blog readers know that our family prefers to go textbook-free whenever possible, particularly when studying history and science in the younger grades. So would it surprise you to learn that we own at least 6 books in the Exploring Creation Young Explorer Series, and that my kids love reading them as part of our science studies?
These are textbooks that don't feel like textbooks, and they fit perfectly with our wonder-focused approach to early science learning!
So when I had the opportunity to review Apologia's new Exploring Creation with Earth Science curriculum? I couldn't say YES fast enough!
If you're searching for an earth science homeschool curriculum that emphasizes hands-on learning, notebooking, and narration (and that won't require tons of teacher prep), keep reading to learn more about Exploring Creation with Earth Science!
There are 14 lessons included in Apologia's homeschool earth science curriculum. Lesson 1 begins with "The Observable Universe," exploring earth's place in space.
Subsequent lessons discuss what makes earth unique/habitable, spheres of the earth, mapping, continents and rocks, soil and topography, bodies of water and the water cycle, the atmosphere, climate and weather, weather forecasting, ecosystems and biomes, cycles of life, and unique places on earth. The final lesson takes a big-picture step out and discusses God's place in creation and science, and discusses our role as stewards of the earth.
Lesson 1: The Observable Universe
Lesson 2: Life in the Habitable Zone
Lesson 3: Spheres of the Earth
Lesson 4: Mapping Your World
Lesson 5: The Geosphere
Lesson 6: Making and Shaping the Land
Lesson 7: The Hydrosphere
Lesson 8: The Atmosphere
Lesson 9: Climate and Weather
Lesson 10: Weather Forecasting
Lesson 11: The Biosphere
Lesson 12: Cycles of Life
Lesson 13: Unique Places on Earth
Lesson 14: God in Creation
Exploring Creation with Earth Science is conversational in tone and makes it easy for elementary students to engage with the text. The gorgeous graphics and colorful illustrations retain interest and helpfully supplement the text.
One of the things I love about Apologia's elementary homeschool science books is their flexibility. You can read the textbook aloud and discuss using the included narration questions, or your children can read the book on their own and complete nature journal pages. You can spread the 14 lessons over an entire year using the two-days-a-week suggested schedule explicitly laid out for you in the accompanying student notebooking journal. Or, like we have often done with other books in the Young Explorer's Series, you can deep dive into one topic and complete an entire book in one semester.
If you love an open-and-go curriculum that requires little to no teacher prep, I'd suggest using the provided weekly schedule guide included in the notebooking journal. It suggests a 2-day-a-week schedule lasting 28 weeks. Each week has the assigned textbook pages, activities, and notebooking journal pages to be completed. It makes planning your homeschool year a breeze!
Pages in the notebooking journal that are used over multiple days (coloring pages, "Fascinating Facts," "As I see It," and "Exploring Creation" sections) are not included in the daily schedule plans. You will need to decide which ones you'd like to include in your family's schedule. One suggestion I have is to read aloud the textbook chapter while your children color the coloring pages or take notes on the "Fascinating Facts" journal sheets.
Are the notebooking journals necessary?
You may be wondering if the accompanying notebooking journals to Apologia's Earth Science curriculum are necessary. I'd say it all depends…
We have explored creation with Apologia's homeschool science books many times in the past, as mentioned earlier. Sometimes we have done so using the notebooking journals, and sometimes we haven't.
The main benefit of purchasing the Apologia Earth Science Notebooking Journal is that everything is completely laid out for you! Activity lab reports? Ready to be filled in. Minibooks? Gorgeously illustrated and ready to be cut-and-pasted. And of course there are fabulous coloring pages, lift-the-flap activities, crossword puzzles, and more.
In fact, the one downside to the notebooking journals may be that you feel pressure to complete all the included activities. And this is not only not necessary, it's not even recommended by the publisher! The parent guide says so clearly:
"Everything in this journal is optional and should enhance your student's experience. If there is a particular section that doesn't fit well with your student, please consider skipping that section."
However, if you prefer to focus on the textbook alone, each chapter includes suggested activities and discussion questions. It will just require a little more work on your part as the parent to pull things together.
The Jr. Notebooking Journal is geared more toward K-2 students, and the Regular Notebooking Journal is best for grades 3-6.
One of my favorite benefits of Apologia's elementary homeschool science curriculum is how easy it is to teach across multiple ages! While your youngest student may primarily listen to the book being read aloud and talk to you about what they've learned, older elementary (and even early middle schoolers, depending on your child) can dive more deeply into the topics with supplemental resources, hands-on-activities, and written answers to discussion and review questions.
Sometimes my children have become interested in different topics, and I've allowed them to pursue their individual interests. I personally prefer, however, when we explore the same topic together. This might include reading aloud the science book during Morning Time, memorizing some related poetry, enjoying hands-on experiments together, and following rabbit trails as they arise.
If your family is anything like mine, you're constantly balancing the curriculum needs/desires with the homeschool budget. With Exploring Creation with Earth Science you'll have a homeschool science curriculum that can be enjoyed by the whole family!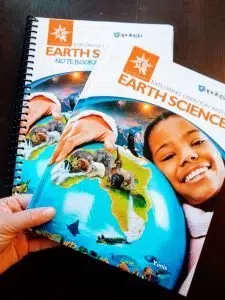 Is Apologia Earth Science from a Christian worldview?
The Exploring Creation with Earth Science curriculum is unapologetically Christian in tone and content, like all the science curriculum from Apologia.
Apologia's homeschool science curriculum makes clear that science and the scientific method "are possible because you do not live in a universe that is chaotic and random." One of the quotes included in the Exploring Creation with Earth Science textbook says it well:
"The significance and joy in my science comes in those occasional moments of discovering something new and saying to myself, 'So that's how God did it.' My goal is to understand a little corner of God's plan."

Henry Schaefer as quoted in Exploring Creation with Earth Science
I did notice that Apologia's earth science curriculum, while filled with glory given to God in creation and numerous Scripture passages, avoids direct discussion of the age of the earth, impact of the flood on geology, etc. It's possible that I overlooked it, but it appears to have been purposefully written in this way. I think this enables it to have a broader audience within Christian homeschooling. Whether you are a young earth or old earth creationist by conviction, I think you could use this text without issue.
Try Apologia Exploring Creation with Earth Science
Click here to learn more about Apologia's homeschool earth science curriculum, then enter the giveaway below for your chance to win an Exploring Creation with Earth Science set!